Amcrest 4MP Outdoor PTZ POE AI IP Camera Pan Tilt Zoom Security Speed Dome, Human Detection, 98ft Night Vision, Tripwire & Intrusion, POE (802.3at) IP4M-S2112EW-AI
AMCREST MODEL: IP4M-S2112EW-AI
CAMERA FEATURES:
1/3" 4MP CMOS Image Sensor, 4-Megapixel Ultra High Definition Video for Excellent Quality and Clarity, 4MP @25fps
Focal Length: 2.7 - 13.5mm
Max. Aperture F1.7 – F3.0
ROM: 128MB ; RAM: 128MB
4 IR LEDs for 98ft Night Vision
This camera includes advanced IVS features such as Tripwire, Intrusion, etc. which help to increase the overall efficiency and accuracy of the camera
355° Pan, 90° Tilt; 32° - 107.6° FOV
Built in Speaker and Mic for Two-Way Audio
DORI DISTANCE:
Detect: 677.82ft
Observe: 270.99ft
Recognize: 135.49ft
Identify: 67.91ft
IP66 Outdoor Weatherproof Camera
WDR: DWDR
IVS Features include Tripwire & Intrusion
Smart Motion Detection: Human Detection
Active Deterrents, Light Warning: Red and Blue light warning, Flash Duration: 5s-30s, Flash Frequency: High, Medium, Low
Siren Warning: Customizable Alarm Duration: 10s, 20s, 30s
POE (802.3at), DC12V 1.5A
H.265 Compression Technology
Storage Options: MicroSD Card (Up to 256GB), Local PC, FTP, Amcrest NVR & Amcrest Cloud
TVS 2000 V lightning proof; surge protection; voltage transient protection
This product may contain components which are not NDAA compliant
Operating Temperature: –22 °F to +140 °F
Dimensions: 10.70 x 6.52 x 5.51 in
Weight: 2.36 lbs
AI Features
The PTZ Speed Dome PoE AI IP Camera features; Human Detection, Deep IVS (Tripwire & Intrusion), Active Deterrents such as Siren Warning and Light Warning. Please note, the AI features included with the camera are built in and do not require an AI NVR to function. A PoE Injector or Switch is Required; Not Included (Uses PoE 802.3at). Offers [email protected] video with a wide 32° - 107.6° viewing angle.
Superior HD 4MP at 25fps
Magnificent 4-Megapixel / 2688 x 1536p @ 25fps video with enhanced low light capability on this POE outdoor camera utilizing a 1/3" CMOS progressive image sensor and a chipset, the Amcrest UltraHD camera soaks in the entire scene, dynamically painting all the vivid colors and rich imagery, pixel by pixel, onto your computer screen or smartphone in full 2688x1536 resolution at 25 frames per second (FPS). No need to strain your eyes, lean in close, or play the guessing game when you have this level of detail.
Cloud Video Storage
High definition recordings are only as good as how quickly and easily they can be accessed. Amcrest Cloud was created to ensure that you don't miss anything, no matter where you are. Regardless of how far you are from home, you can login from a computer (PC or Mac) or through the Amcrest Cloud smartphone app to instantly pinpoint your footage through an intelligent timeline on an intuitive interface and play it back in seamless and brilliant 4MP quality. The Amcrest Cloud app also can be configured to send you on-the-go alerts. Live viewing, Additional 7-day, 15-day, and 30-day storage plans are available starting at $6 per month.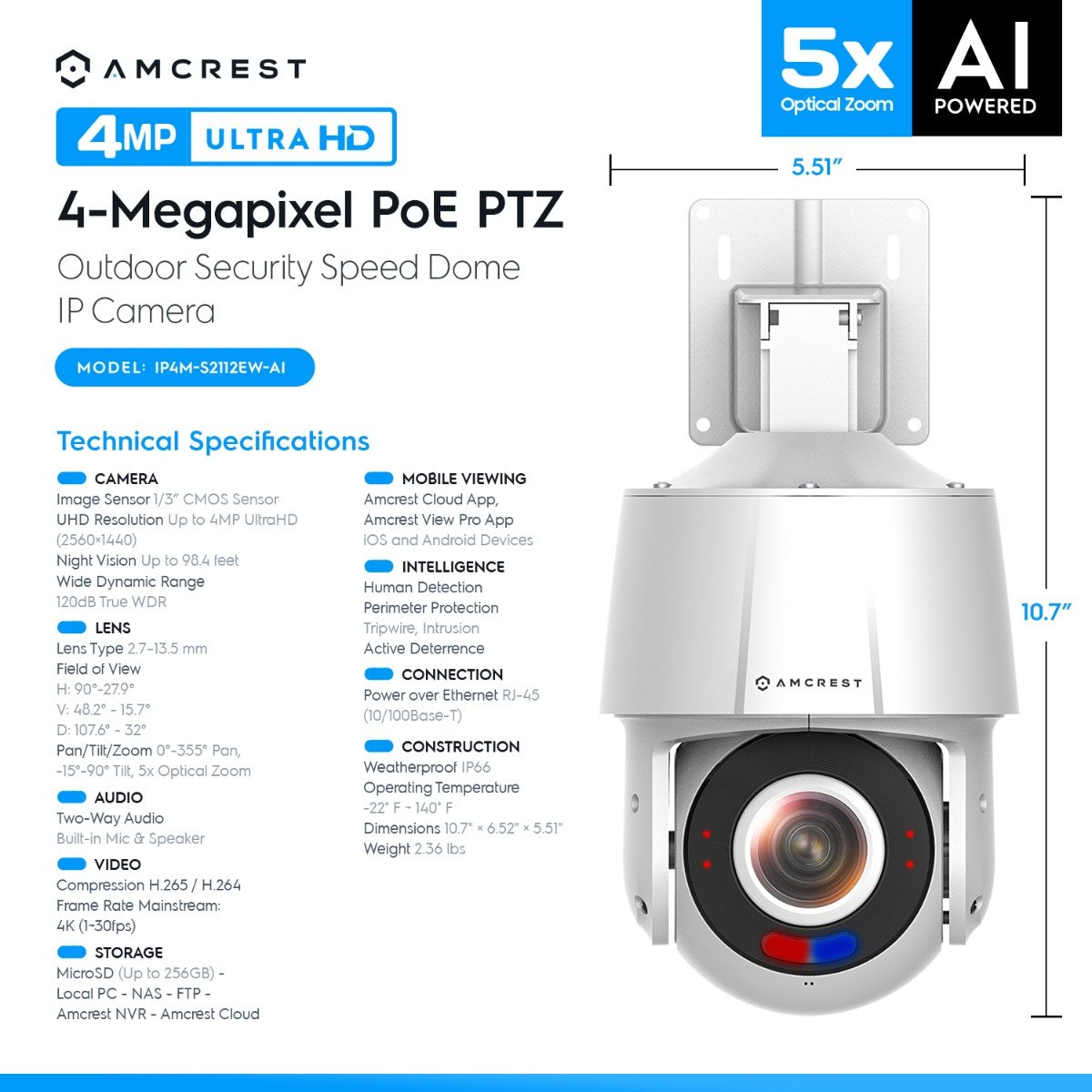 MicroSD, FTP & NVR Storage
In addition to Amcrest Cloud, the Amcrest ProHD camera can also record to an FTP server, onto your local computer, MicroSD Card (Up to 256GB), or to any Amcrest NVR (not included). You'll have full control over your recordings and can manage them however you'd like.
Smart Motion Alerts
The Amcrest View Pro app frees you from having to check in just to find out what's been happening lately. Instead, get immediate push notifications and alarm details sent to your smartphone while you're on the go. Launch straight into the app, choose an event from the Event List, and jump right to the relevant recording. Life doesn't wait around, and neither should you.
Advanced Zone Detection
Create distinct motion detection zones to completely customize control over what you're monitoring. This is an effective way to ensure that you only record what you need when its important. Each zone includes its own sensitivity and threshold meters so you can fine-tune it exactly to your liking. Let the Amcrest camera hold its focus so you don't have to lose yours.
Intelligent Timeline Playback
Your stored recordings and pictures are precious, and having that data at hand is the whole point of using a security camera. Whether sharing with friends and family, or presenting evidence in a court case, it is important to be able to immediately identify, track down, playback, and export what you want, when you want it. The Amcrest camera's intuitive searchable timeline will make your life easier, save you time, and act as a sophisticated built-in video player.
Always Resilient
Whether it's rain or shine, day or night, this outdoor pan tilt camera has an IP66 rating which means it's built to endure whatever mother nature throws its way. Once nighttime sets in, innovative starlight technology from the CMOS Image Sensor and 4 IR LEDs helps this camera see up to 98.42 feet at night even in ultra-low light. H.265 Compression technology allows for files to be compressed without any noticeable difference in quality.
Active Deterrents
The Speed Dome Camera features Active Deterrents such as Light Warning: White light warning, Flash Duration: 5s-30s, Flash Frequency: High, Medium, Low. Siren Warning: Customizable Alarm Duration: 10s, 20s, 30s to deter would-be criminals from your property. Built in Speaker and Mic for Two-Way Audio.
Secure SSL connections via HTTPS
The Amcrest ProHD camera features secure SSL connections via HTTPS to comply with modern WiFi standards for encrypted connections. This way you can always be assured that, as you play your footage, you're also playing it safe.
US Support & Warranty
Any user of Amcrest products can take full advantage of the expansive support content available. Between our YouTube channel, knowledge base, forums, and US email/phone support team, anything and everything can and will be answered quickly and simply. In addition, each purchase with Amcrest will include a 30-day money back guarantee as well as a 1-year replacement warranty.
Viewing Angle
32° ~ 107.6°
Camera Style
PTZ Optical Zoom AI
Camera Resolution
4-Megapixel
Infrared Night Vision
98 feet / 29.87 meters
Technology Standard
HD IP PoE
Text Above Add to cart Button
0
Amazon Checkout Url
https://www.amazon.com/dp/B0C32MQ38Y?ref=myi_title_dp
1 x UltraHD 4MP Smart PoE PTZ IR Speed Dome IP4M-S2112EW-AI (White)
Quick Start Guide
1 Year Warranty Provided Directly from Amcrest
Free Shipping within the continental US except outlying
US Territories

Featured Products

Amcrest Support