Amcrest NV4108E-A2 4K 8CH POE NVR (1080p/3MP/4MP/5MP/8MP) POE Network Video Recorder - Supports up to 8 x 8MP/4K IP Cameras, 8-Channel Power Over Ethernet, Pre-Installed 4TB Hard Drive (NV4108E-4TB)
AMCREST MODEL: NV4108E-4TB
NVR FEATURES:
Extraordinary Quality: Supports 8-Channel 1080p/3MP/4MP/5MP/8MP/4K Resolution
Records 8-Channels @ 1080p/3MP/4MP/5MP/8MP/4K & Playback 8-Channel @1080p(30fps)/4-Channel @4MP(30fps)/2-Channel @4K(30fps)
Record in Widescreen, Quick Access QR Code Remote Viewing on iOS and Android Smartphone/Tablet Devices (w/ included Amcrest View app)
The A2 Series Support camera's AI features, All AI features are controlled on the camera side so the AI features available on the NVR may depend on the model camera being used. There are No Built-In AI features associated with this NVR.
Advanced H.265 compression technology lets you save on storage space which allows for longer recording times. H.265 technology compresses your video without sacrificing any of the UltraHD video quality
Max 80Mbps Incoming Bandwidth, records 7 cameras @ 4K using H.264. Records 8 cameras @ 4K by changing default settings from H.264 to H.265 and adjusting bit rate to 1792 on each camera for maximum optimization
Feature-Rich OSD: Camera Name, Time, Motion Detection, Video Loss, Lock, and Record Status Icons
Multiple Trigger/Alarm Events: Recording, PTZ, Tour, Video Push, Email, FTP, and Buzzer
Custom Record Modes (e.g. Manual, Scheduled, Motion Detection) and Record Intervals (1-120min)
Pre-Installed 4TB Hard Drive (Supports up to 10TB Hard Drive)
This product may contain components which are not NDAA compliant
USB Backup Feature for Peace of Mind
This NVR requires a hard-wired connection directly to your router to operate. Supports all Amcrest WiFi and Wired IP cameras. The system will only work with Amcrest cameras/systems and support POE cameras. Monitor needs to have HDMI compatibility and needs to be connected with HDMI directly into monitor, if not users could be experiencing monitor issues.
4K Quality
The NVR finally brings 4K UHD quality to a NVR that can be viewed on vivid, crystal-clear 8-Megapixel resolution. Experience true High Definition video unlike any other system as your monitor brings everything to life. Whether you are recording, taking snapshots, or checking Motion Detection alerts, no detail will make it past you even if it tried.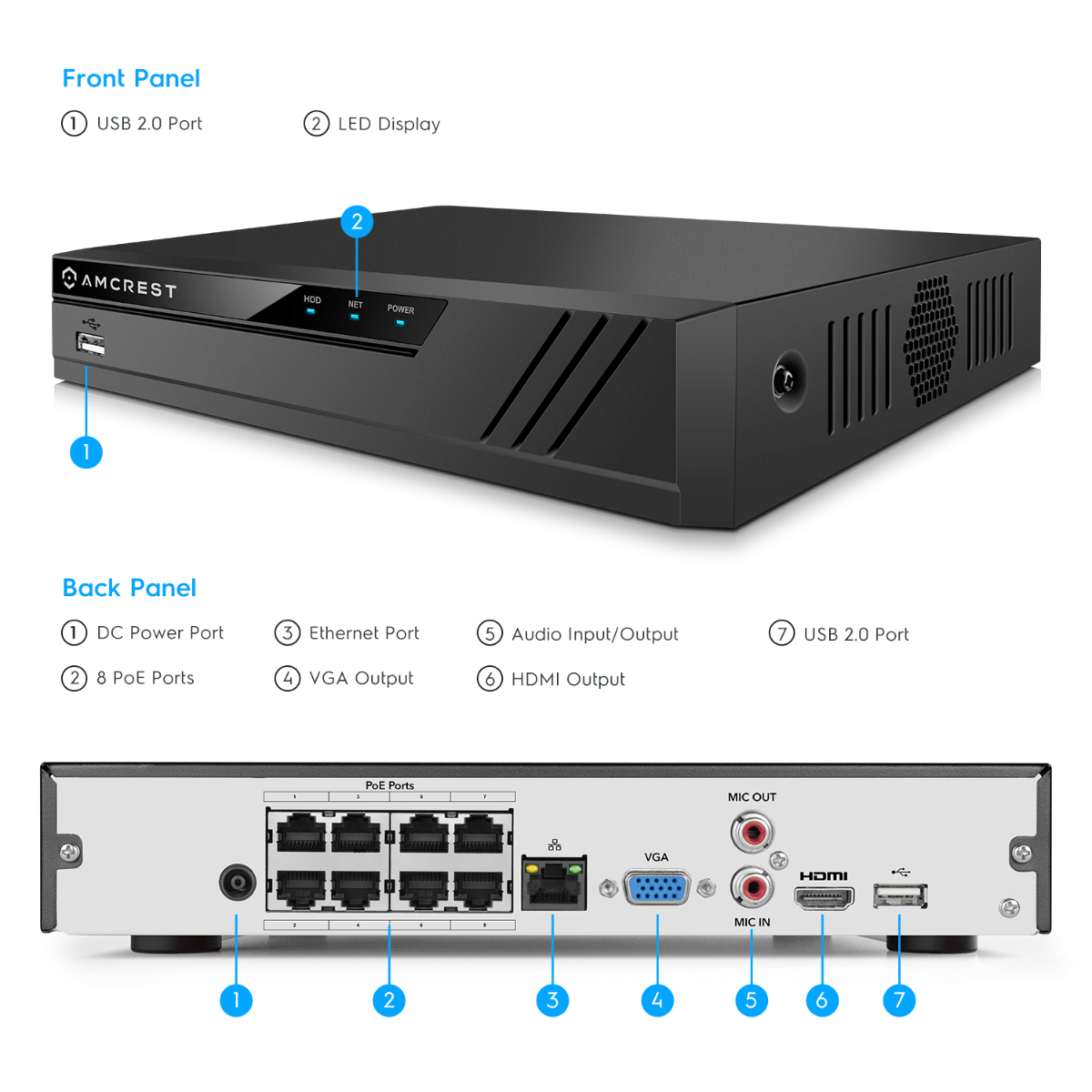 8-Channel NVR with PoE with Pre-Installed 4TB Hard Drive
Connect up to 8 PoE cameras at once that you can control at the same time through the NVR's on-screen display! Max 80Mbps Incoming Bandwidth, records 8 cameras @ 4K using H.264. Records 8 cameras @ 4K by changing default settings from H.264 to H.265 and adjusting bit rate to 1792 on each camera for maximum optimization. Comes with Pre-Installed 4TB Hard Drive (Supports up to 10TB Hard Drive), Utilize motion detection and scheduled recordings to record for a lot longer than continuous recording would allow. In addition, all the Ethernet ports on the back panel also support PoE, which saves you from having to use PoE splitters or injectors.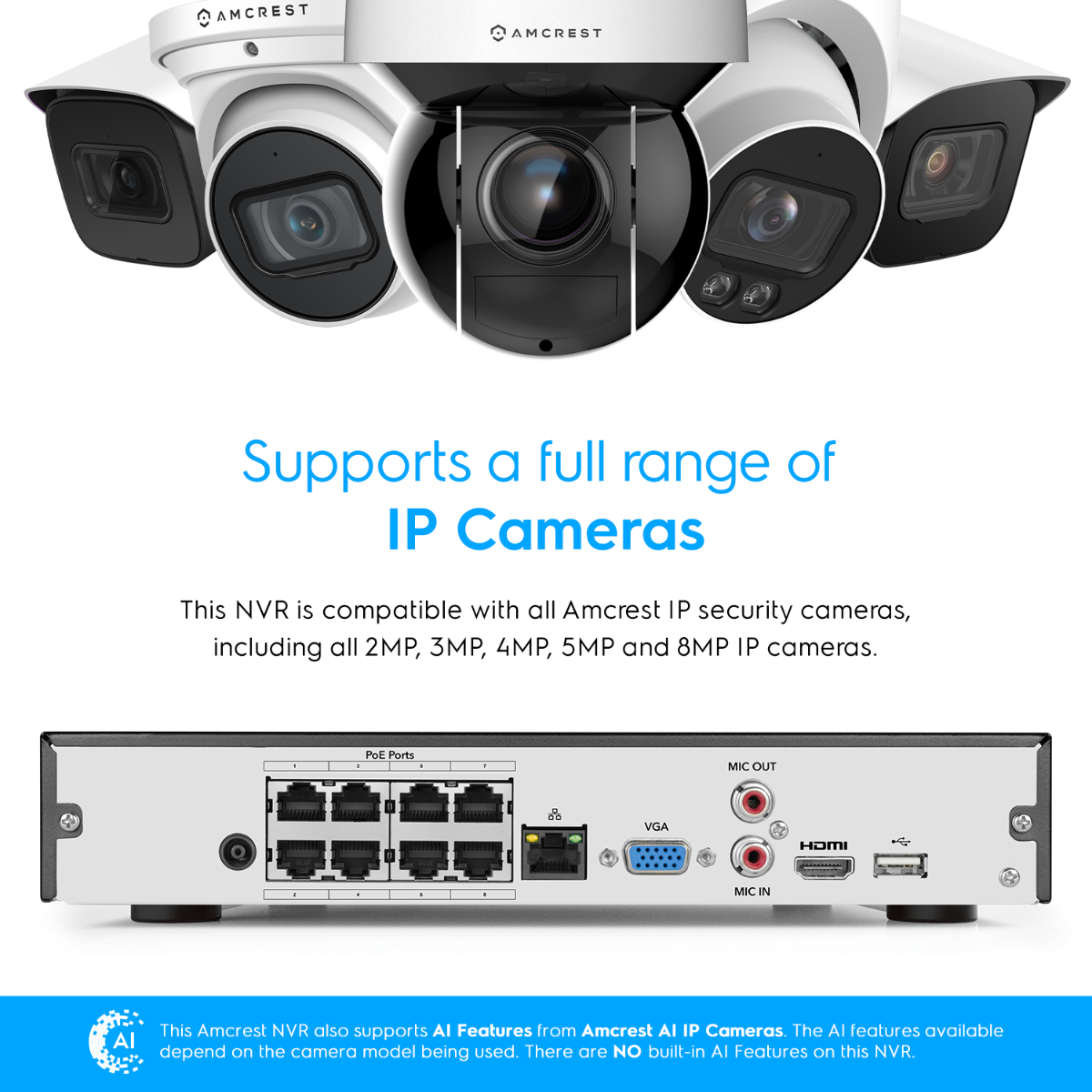 Supports AI Cameras
Supports AI Features from AI IP Cameras, AI features available depend on the camera model being used. Only Supports 2CH AI Cameras at 4K@30fps. No built-in AI Features on NVR. Connects to and manages all the POE IP cameras on your network directly through their ethernet cables for ultimate ease and convenience in a home security system.
Remote Viewing and Storage
When you bring your NVR online, you can tap into your system and check on all your cameras at any time from anywhere in the world! You can do this through the Amcrest View smartphone/tablet app as well as through the web interface once it has been setup for remote viewing. This allows you to always keep in touch with what's going on no matter where you are and even features alert notifications on the go!
Amcrest View App for iOS or Android
Free yourself from having to sit at a computer to check on your cameras! Now, you can take them with you on the go by pulling up live feeds with the new Amcrest View app. It is free to download and available on the App Store and Play Store. The NVR comes with a QR code for a quick and painless plug-and-play setup for remote viewing on your smartphone. Just scan it into the app and start viewing right away!
More Secure Than IP
Instead of having multiple devices independently accessible through the network, with the HD NVR, you only have one device. This NVR will be the hub for all your cameras at once. It's not only easier to set-up, but easier to manage, troubleshoot, access and control. And because you only have one device online, as opposed to multiple, you can also feel more secure.
Intelligent Timeline Playback
Amcrest NVR's come equipped with an intelligent timeline playback feature which allows you to view all of your recordings on a beautiful, intuitive interface. Scroll seamlessly through different days, hours, or minutes and stream your recorded videos easily.
Plug-and-Play Set-up with Intuitive On Screen Display
No confusing configuration necessary. With the HD NVR, you just connect your Ethernet cable, and enjoy your vibrant HD stream. At last, no more messy computer software downloading or configuration necessary. No need to worry about IP configuration, subnetting, or port forwarding for each and every single camera independently. Instead, configure all your IP cameras into one location, the NVR, to gain access to all of your cameras at once! Enjoy viewing, controlling, and managing all your cameras on the NVR's built-in OSD. You can even use your own mouse!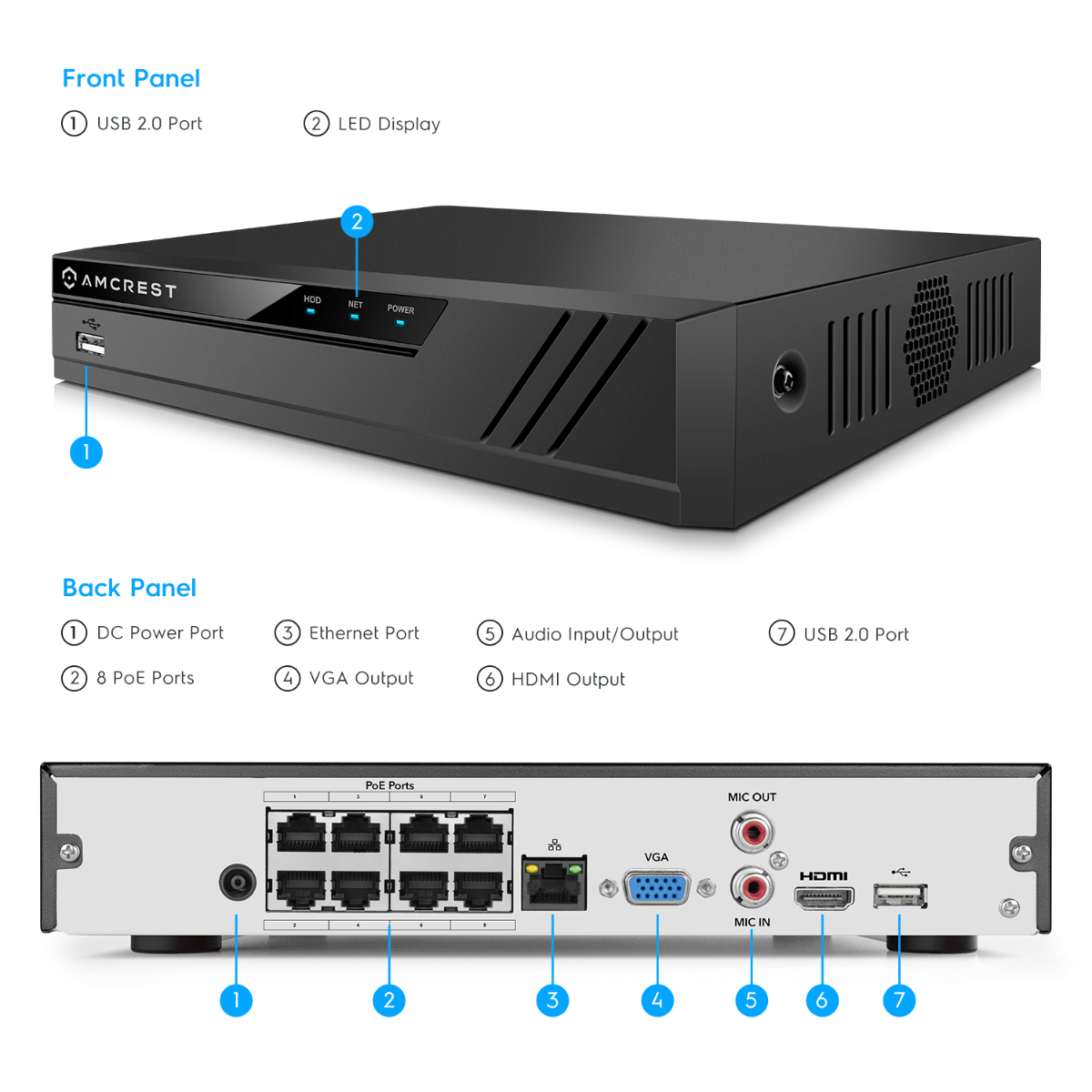 USB for Data Transfers and HDMI or VGA Output
10 full Terabytes of storage space not enough? You don't have to delete old recordings to make room. Now you can pop in a USB drive or cable and backup your most important videos to an external storage device! And you can choose between standard and high definition output to any monitor or TV of your choice. Imagine showing off your cameras on the big screen!
Shipping, Warranty, & Support
When you purchase directly from Amcrest you are not only purchasing a product, but also the value-added service of same-day shipping from our US based warehouse. We have a 30-day money back return policy and a warranty replacement process all based out of the US. If you need help, click our Support Tab to gain access to step-by-step guides, video tutorials, and our community support forums. And if you still need additional assistance, feel free to call or email our technical support team. We're happy when you're happy!
Technology Standard
HD IP PoE
Text Above Add to cart Button
0
1 x 4K 8-Channel POE NVR with Pre-Installed 4TB Hard Drive (NV4108E-4TB)
1 x USB Mouse
1 x Network Cable
1 x Power Supply
1 x User Manual & Quick Start Guide
1 Year Warranty When Purchased from Amcrest