Amcrest UltraHD 12MP AI POE IP Fisheye Camera IP12M-F2380EW
AMCREST MODEL: IP12M-F2380EW
FISHEYE CAMERA FEATURES:
High Resolution Panoramic IP POE Camera ,12-Megapixel Ultra High Definition Video for Excellent Quality and Clarity, 12MP @25fps
33ft Night Vision
360° Panoramic Field of View
1.85mm fish-eye lens
180° viewing angle with 16x Digital Zoom
This camera has built in AI features such as IVS (Tripwire & Intrusion) which allow for increased Perimeter Protection as well as the ability to determine the overall crowd flow (density) over a certain amount of time in a specific area using the People Counting and Heat Map
Wide Dynamic Range up to 120dB
The fisheye security camera has dual H.265/H.264 compression allows for maximum encryption with the latest technology as well as backwards compatibility with legacy platforms
This fisheye IP dome camera comes with a built-in microphone and speaker
This is a FIXED panoramic IP camera and Does Not Pan/Tilt
Operating Conditions: 14° F ~ +122° F (-10° C ~ +50° C)
MicroSD Storage up to 256GB
This product may contain components which are not NDAA compliant
Dimensions: 5.9 x 5.9 x 2.35 inches
Weight: 1.74 lbs.
Simple Power Over Ethernet Setup
Save your time with a simple setup process that can get you up and running on the Amcrest View mobile app in no time at all. You don't have to be tech savvy to get setup quickly and painlessly. Simply power it on, download the app, scan the QR code, and within just a few taps you're ready to go. Day to day operations are a breeze thanks to the simple interface which allows you to take advantage of the camera's powerful features.
AI Features
12 megapixel AI Fisheye PoE Camera features human & vehicle filtering. IVS features include tripwire, intrusion, and perimeter protection. Offers 12MP @25fps video with a panoramic 360° viewing angle. A PoE Injector or Switch is Required; Not Included (Uses PoE: 802.3af)
Superior 12 Megapixel HD
Featuring the latest CMOS progressive scanning image sensor and chipset, the Amcrest UltraHD camera soaks in the entire scene, dynamically painting all the vivid colors and rich imagery, pixel by pixel, onto your computer screen or smartphone in full 4000x3000 resolution. No need to strain your eyes, lean in close, or play the guessing game when you have this level of detail.
Cloud Video Storage
High definition recordings and snapshots are only as good as how quickly and easily they can be accessed. Amcrest Cloud was created to ensure that you don't miss anything, no matter where you are. Regardless of how far you are from home, you can log in from a computer (PC or Mac) or through the Amcrest Cloud smartphone app to instantly pinpoint your footage through an intelligent timeline on an intuitive interface and play it back in seamlessly brilliant 3MP quality. The Amcrest Cloud app also can be configured to send you on-the-go alerts. Live viewing, along with 4 hours of recorded storage is included free. Additional 7-day, 15-day, and 30-day storage plans are available starting at $6 per month.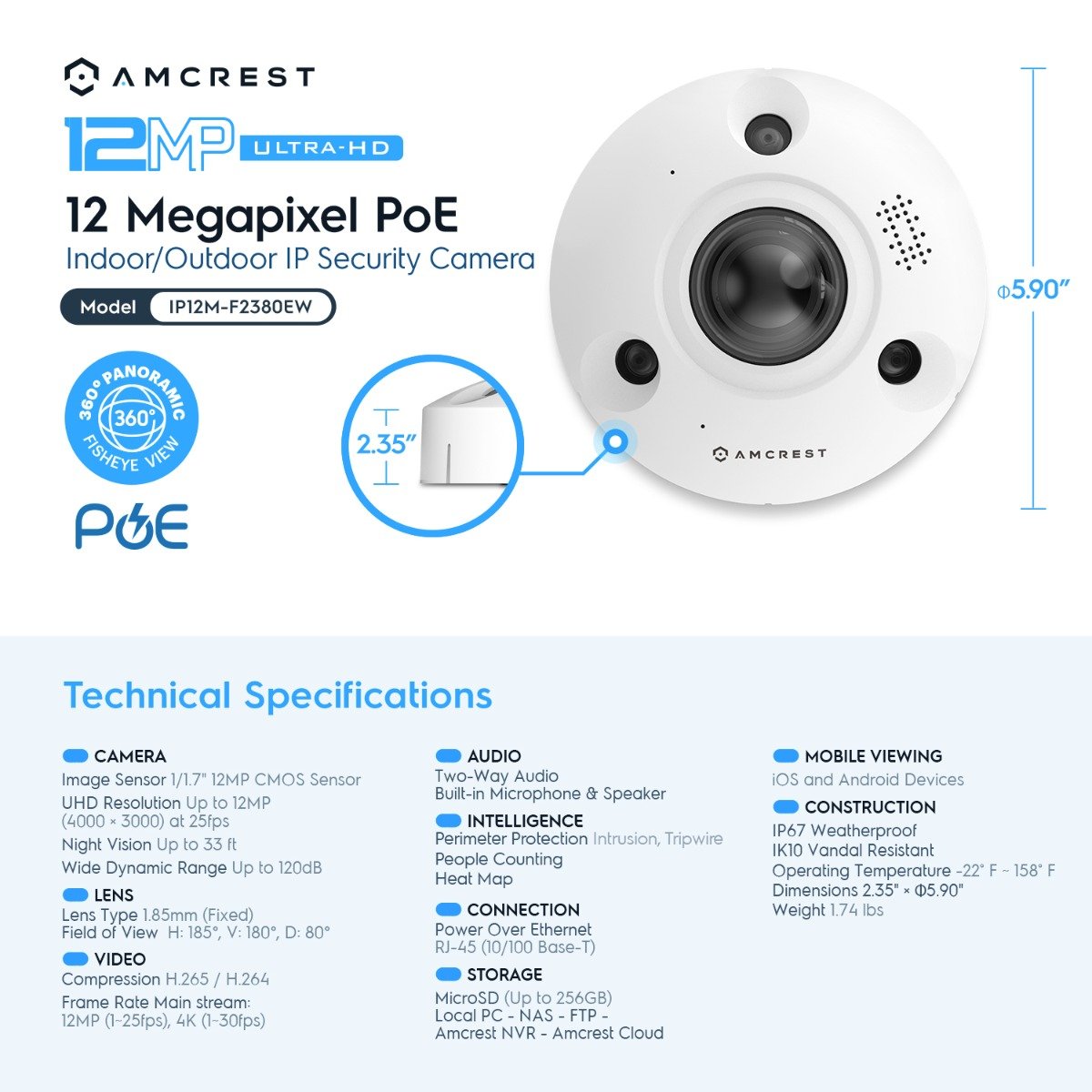 MicroSD Card, FTP & NVR Storage
In addition to Amcrest Cloud, the Amcrest UltraHD camera can also record to an FTP server, onto your local computer, onto a MicroSD Card (up to 256GB, FAT32, Not Included), or to any Amcrest NVR (Not Included). You'll have full control over your recordings and can manage them however you'd like.
Smart Motion Alerts
The Amcrest View Pro app frees you from having to check in just to find out what's been happening lately. Instead, get immediate push notifications and alarm details sent to your smartphone while you're on the go. Launch straight into the app, choose an event from the Event List, and jump right to the relevant recording or snapshot. Life doesn't wait around, and neither should you.
Advanced Zone Detection
Create distinct motion detection zones to completely customize control over what you're monitoring. This is an effective way to ensure that you only record what you need when its important. Each zone includes its own sensitivity and threshold meters so you can fine-tune it exactly to your liking. Let the Amcrest camera hold its focus so you don't have to lose yours.
Intelligent Timeline Playback
Your stored recordings and pictures are precious, and having that data at hand is the whole point of using a security camera. Whether sharing with friends and family, or presenting evidence in a court case, it is important to be able to immediately identify, track down, playback, and export what you want, when you want it. The Amcrest camera's intuitive searchable timeline will make your life easier, save you time, and act as a sophisticated built-in video player.
Heat Map
This fisheye camera is extremely useful in crowded areas where measuring the overall crowd flow in a designated area is of critical importance. Heat Map supports people counting in 4 areas. The 12-megapixel camera also supports Intelligent Search, event extraction, and merging to event videos. (Smart NVR Required; Not Included)
Panoramic 360° Viewing Angle
A carefully crafted 1.85mm fixed lens with a max aperture of F2.0 generates striking visuals owing to the 360° viewing angle. With such a wide field of view you will have no problem keeping what you care about in your sights.
Secure SSL connections via HTTPS
The Amcrest UltraHD camera features secure SSL connections via HTTPS to comply with modern WiFi standards for encrypted connections. This way you can always be assured that, as you play your footage, you're also playing it safe.
US Support & Warranty
Any user of Amcrest products can take full advantage of the expansive support content available. Between our YouTube channel, knowledge base, forums, and US email/phone support team, anything and everything can and will be answered quickly and simply. In addition, each purchase with Amcrest will include a 30-day money back guarantee as well as a 1-year replacement warranty.
Camera Resolution
12-Megapixel
Night Vision
32 feet / 10 meters
Technology Standard
HD IP PoE
Text Above Add to cart Button
0
Amazon Checkout Url
https://www.amazon.com/dp/B0BMMDCDQJ
1 x 12-Megapixel Panoramic IP POE Security Camera White (IP12M-F2380EW)
1 x Quick Start Guide
1 Year Warranty Provided Directly from Amcrest
Featured Products

Amcrest Support