Amcrest USB C Power Bank, 10,000mAh Portable Charger USB C, Power Bank Fast Charging 10W PD 3.0, Type C Battery Bank Powerbank with LED Display for Android & iOS Smartphone Devices APB-MAGW10-B
AMCREST MODEL: APB-MAGW10-B
POWER BANK FEATURES:
Battery Type: Li-Ion Battery
Capacity: 10,000mAh
Lightning Input: DC5V/2A, 9V/2A
Type-C Input: DC5V/3A, 9V/2A
USB Output: DC5V/4.5A, 4.5A/5A, 9V/2A, 12V/1.5A
Type-C Output: DC5V/3A, 9V/2.2A, 12V/1.5A
10W PD USB-C port and 1 x Light Port Input
This device provides a Type-C USB input/output, a Lightning Port Input, a power on/off button, a fast charge port and a digital display
Digital Display shows the current battery level of the power bank
The fastest way to charge the device would be a Type-C USB input, as it may charge the device in up to 6 hours
Dimensions: 5.66 x 2.79 x 0.47 inches
Weight: 0.49 lbs (225g)
Storage Temperature: 23°F ~ 95°F (Less than 1 month) / 23°F ~ 86°F (Less than 6 months)
Working Temperature: 32°F ~ 113°F (Charging) / -4°F ~ 140°F (Not Charging) Wireless Portable Charger
The Amcrest Magnetic Wireless Charger works with the iPhone 12 & iPhone 13. Provides up to 10W of wireless charging power. Wirelessly charge you phone without a need for the cable.
Ultra-High USB-C Efficiency
This USB C power bank features an incredible 10,000mAh cell capacity that provides 2.5 charges for iPhone 12, 2 charges for Galaxy Note 20, 2.5 charges for Samsung S9+, and 3 charges for iPhone X, utilizing the latest USB-C industry leading charging standard, giving you power when you need it.
Versatile & Powerful
The Amcrest USB C portable charger power bank includes 1 x 10W PD 3.0 USB-C input/output. 1 x Lightning Input for simultaneous charging up to 1 device with a combined output of 10W. 10W Total Output & PD 10W on USB-C port for fastest recharging speeds. The Amcrest portable power bank comes included with industry-leading, UL- certified lithium-ion batteries as well as overheat protection to keep your devices from over-charging or short-circuiting
LED Digital Display
This heavy-duty portable phone charger features a unique LED display that shows you the exact percentage of remaining power. When the battery bank enters the PD fast charge mode, the PD light font on the display will show. Power bank fast charging capable with PD 3.0 (Power Delivery) mode available on USB-C port.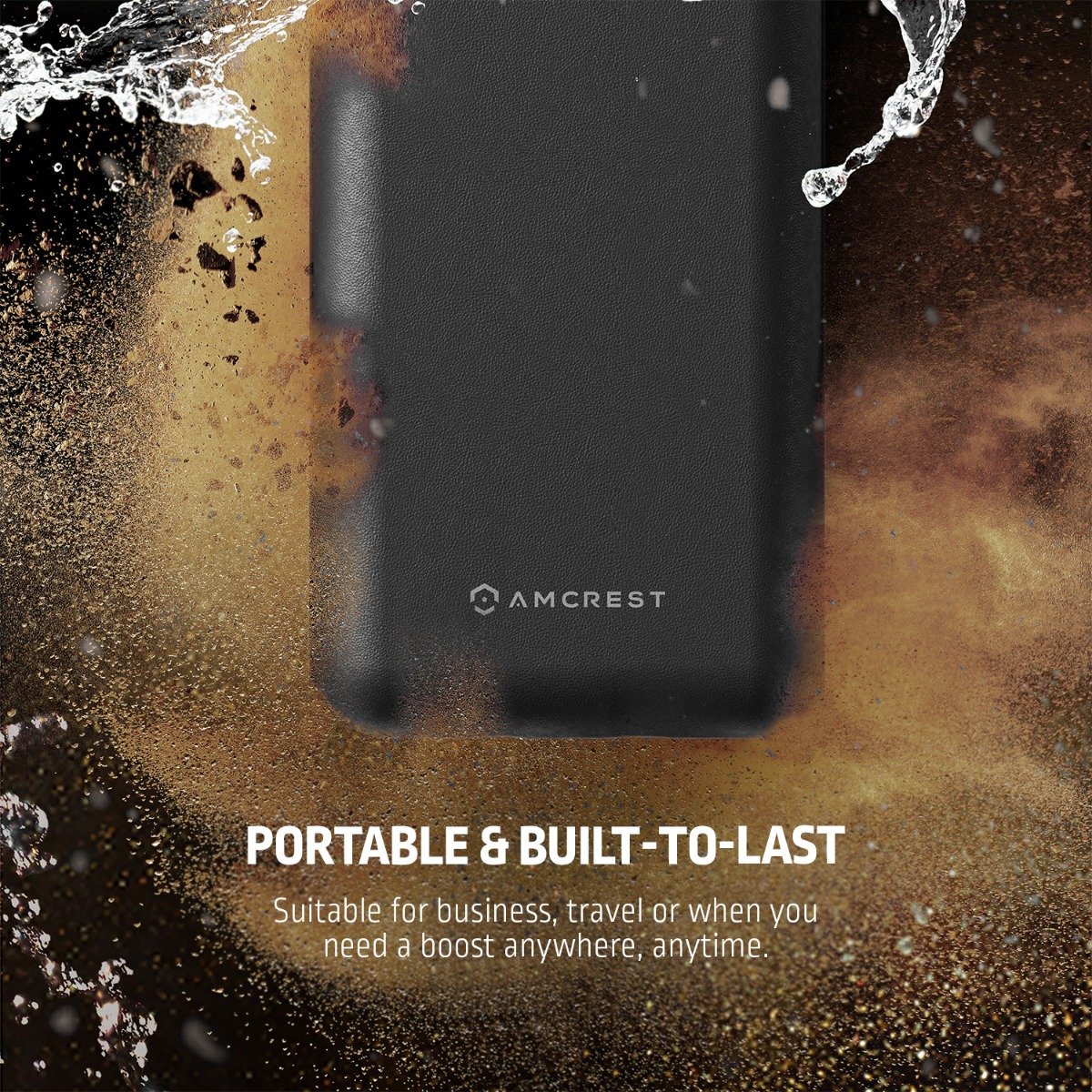 Highly Compatible for All Devices
Quickly charge all of your devices on the go. The Amcrest USB powerbank can charge almost any USB powered device including smartphones, tablets, laptops, and more. The versatile battery pack charger supports multiple cable types including USB-C (Input/Output), & Lightning Port (Input). Compatible portable charger for iPhone and power bank for iPhone, iOS, and Android.
US Support & Warranty
Any user of Amcrest products can take full advantage of the expansive support content available. Between our YouTube channel, knowledge base, forums, and US email/phone support team, anything and everything can and will be answered quickly and simply. In addition, each purchase with Amcrest will include a 30-day money back guarantee as well as a 1-year replacement warranty.
Text Above Add to cart Button
0
1 x USB-C Magnetic Portable Charger (APB-MAGW10-B)