Amcrest SmartHome 2MP Outdoor WiFi Bullet Camera ASH22-W (White)
AMCREST MODEL: ASH22-W
CAMERA FEATURES:
Amazing real-time HD 2-Megapixel (1920x1080) @ 30fps
Extra-Wide 102° viewing angle with 16x Digital Zoom
2.8mm Lens with 2 IR LED Night Vision Up to 98 feet
1/2.8" 2MP image sensor
Built in Microphone so you can listen
This Camera Needs to be Connected to a Power Source in Order for it to be Powered
This is an Amcrest 2.4ghz WiFi Outdoor Camera and Does Not Support 5ghz Network
MicroSD Storage up to 256GB (Class 10 or Higher, Not Included)
Dual H.265 / H.264 Video Compression Technology
Operating Temperature: -22°F~140°F
This product may contain components which are not NDAA compliant
Dimensions (L*W*H) : 5.8 x 2.9 x 2.9 inches
Weight: 0.5 lbs
2-Megapixel HD
Experience magnificent 2-Megapixel / 1920x 1080@ 30fps) video on this wireless security camera. Features an extra-wide 102° viewing angle which allows you to cover more ground and keep more of what matters to you safe. Works with Alexa through Amcrest Smart Home Cloud.
Smarter Security
Receive motion alert notifications and review footage via your smartphone with the Amcrest Smart Home app. Securely store your HD footage to the Amcrest Smart Home Cloud or store directly to a class 10 MicroSD card up to 256GB for continuous recording. (Limited compatibility with Amcrest View Pro, not compatible with Amcrest Cloud)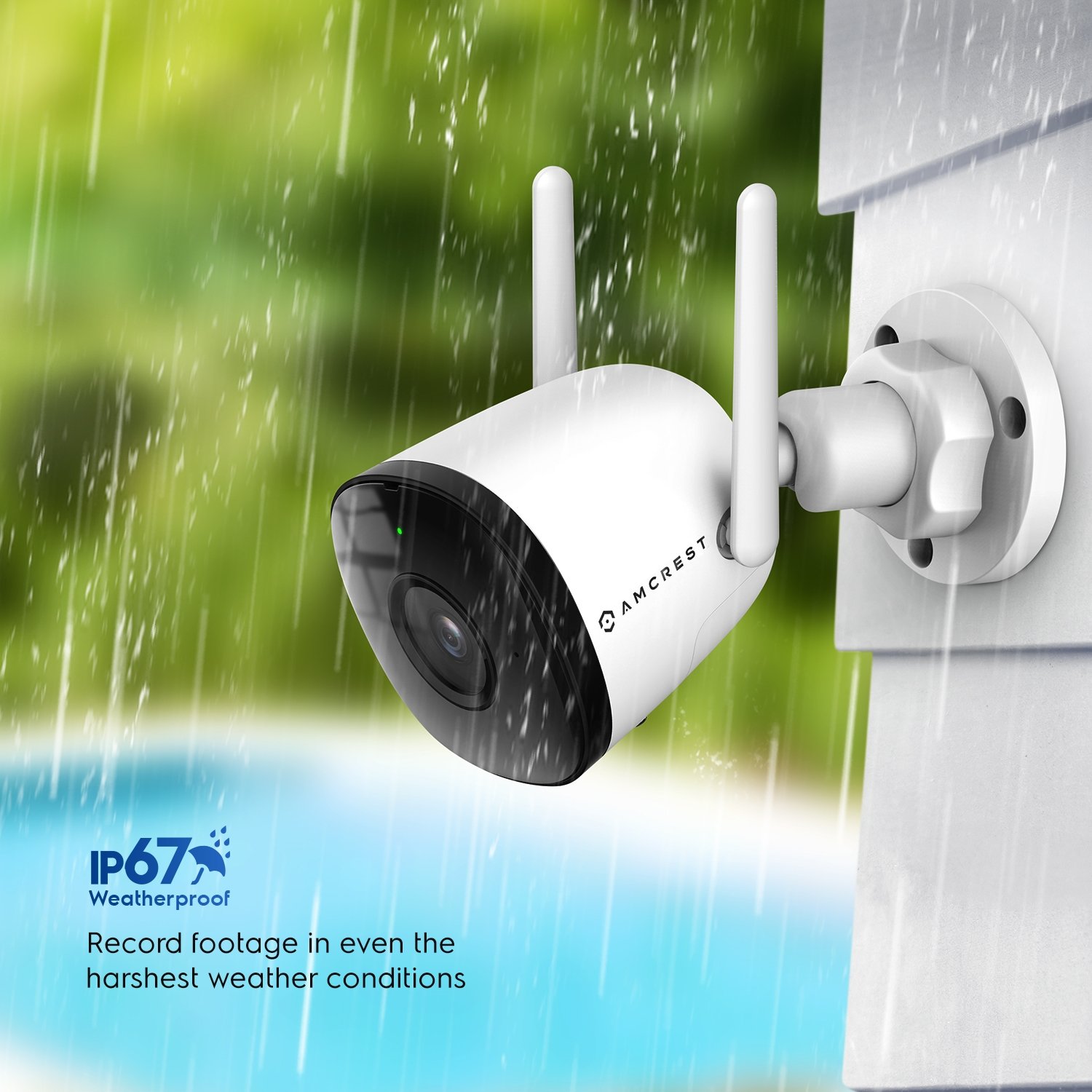 Day or Night, Rain or Shine
Built to whether any storm and the darkest of nights, this wireless outdoor camera features a heavy-duty metal weatherproof IP67 housing as well as built-in IR LEDs to achieve awesome night vision capability up to 98 feet.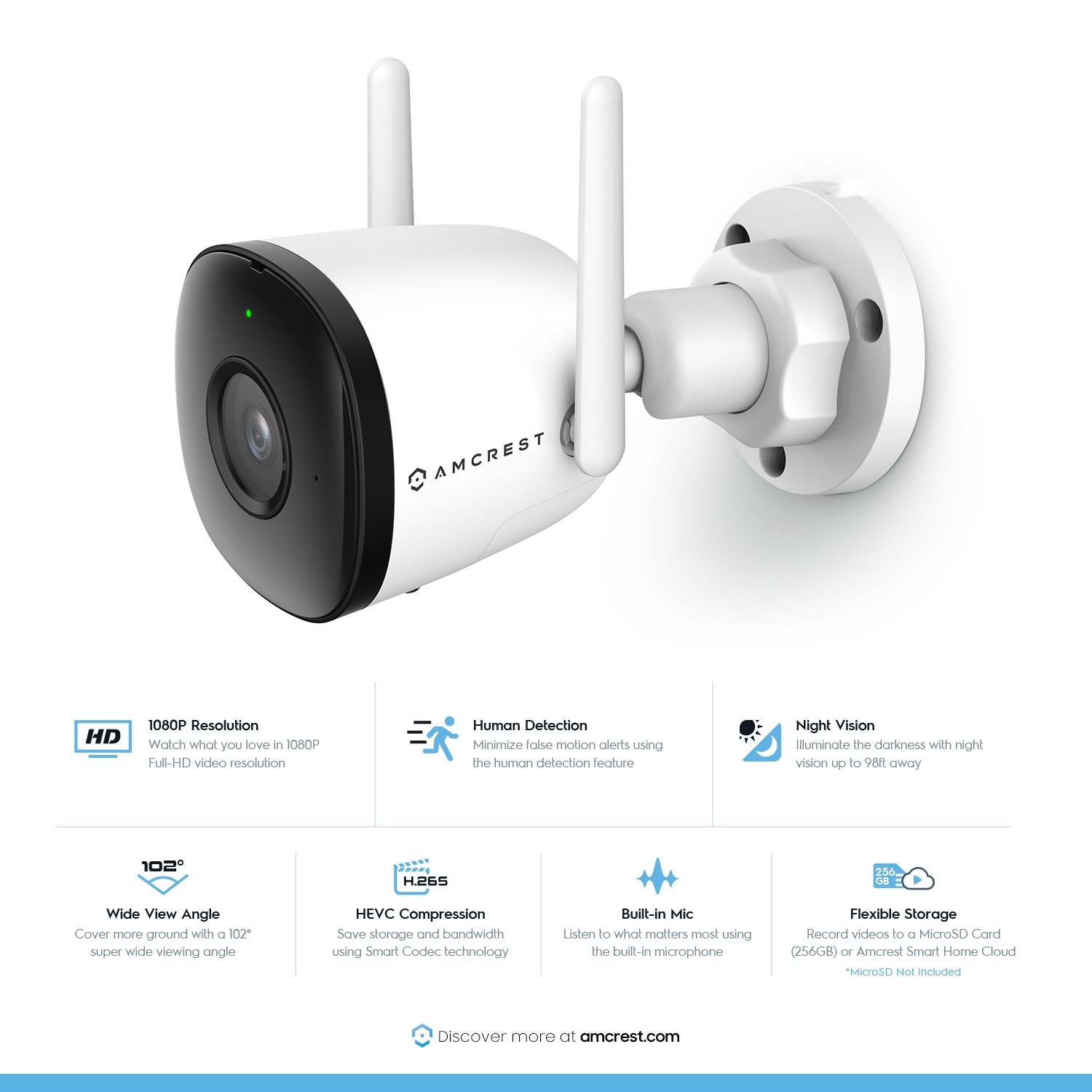 Secure Cloud Video Backup
The optional Amcrest Smart Home Cloud remote video storage subscription service allows you automatically store your videos off-site in a third-party location hosted and secured by Amazon AWS. This way if something happens to your local PC/NVR/SDcard/NAS, the footage will be safely recorded.
Simple, Reliable, Secure
This Amcrest 2.4ghz WiFi home security camera features a secure SSL/HTTPS connection, wireless AES/WPA2 encryption, FCC and CE certificates and receives regular firmware updates (Does not support 5ghz). At Amcrest, we want to ensure the safety of our customers, their loved ones, homes and businesses. You'll receive a full 1-year US Warranty and Lifetime Support provided directly from Amcrest.
Camera Resolution
2-Megapixel / 1080p
Infrared Night Vision
98 feet / 29.87 meters
Technology Standard
HD IP Wireless
Text Above Add to cart Button
0
Amazon Checkout Url
https://www.amazon.com/dp/B08VF8839T?ref=myi_title_dp
1 x SmarHome 2-Megapixel Bullet WiFi Camera White (ASH22-W)
1 x 12V Power Adapter
1-Year Warranty from Amcrest and Lifetime Technical Support.
Regular Price
$79.99
Special Price
$44.99
Free Shipping within the continental US except outlying
US Territories
Featured Products

Amcrest Support