Amcrest 2MP Dash Camera Car DVR 16GB MicroSD Card 160 FOV ACD-830B
The Amcrest ACD-830B 1080P Car Camera & DVR / 160° Viewing Angle / H.264 Compression / 16GB SDHC Included / 3 Inch LCD Display / Saves Video During Outages or Machine Damage / Composite & HDMI Output

The Amcrest ACD-830B is the perfect budget dashcam solution for anyone needing multi-featured ease of use, high quality 1080p HD recording, and rock solid reliability. Just attach the mount to a flat surface such as the front windshield, insert the included Micro SD card, plug the power adapter into a USB port or cigarette lighter socket, and you're ready. The camera starts automatically when the car does, and can be set to start recording when motion - or alternatively, vibration - is detected. The 3" high res LCD screen provides instant video playback, or download video to your computer from the SD card. It's that simple. And with a 1 Year Domestic Warranty supplied exclusively by Amcrest Digital Tech as the authorized WickedHD Distributor, you can purchase with full confidence.


The Amcrest ACD-830B Offers Full and Smooth HD Recording
Recording at Full HD, capture immense detail featuring the latest High Definition 1080P Video at 30fps with the Latest WDR (Wide Dynamic Range) Sony IMX322 image sensor Ensures High Quality, Distortion-Free Focus for Superior Picture Quality and Clarity, the Amcrest dash camera soaks in the entire scene, dynamically painting all the vivid colors and rich imagery, pixel by pixel, onto your computer screen or smartphone in full 1080P resolution at 30 frames per second (FPS). No need to strain your eyes, lean in close, or play the guessing game when you have this level of detail.
Simple Mounting Setup
Save your time with a simple setup process that can get you up and running in your vehicle in no time at all. You don't have to be tech savvy to get setup quickly and painlessly. Simply attach the mounting bracket to the camera, mount the entire fixture on the vehicles windshield, run the power adaptor from the camera to the power socket in your car by running the wire through the trim and moldings in your vehicle, then simply plug it in with the vehicle on and you are ready to go. Day to day operations are a breeze thanks to the simple interface which allows you to take advantage of the camera's powerful features.
On Device Playback and Storage
High definition recordings and snapshots are only as good as how quickly and easily they can be accessed. The Amcrest Dash Camera can record to a Micro SD Card which can easily be inserted on the left side of the camera with a maximum of 64GB. Be at ease to find an included 16GB Micro SD card so that you can be up and running in no time and have full control of your recordings by having the option to lock videos and images via the Playback Mode.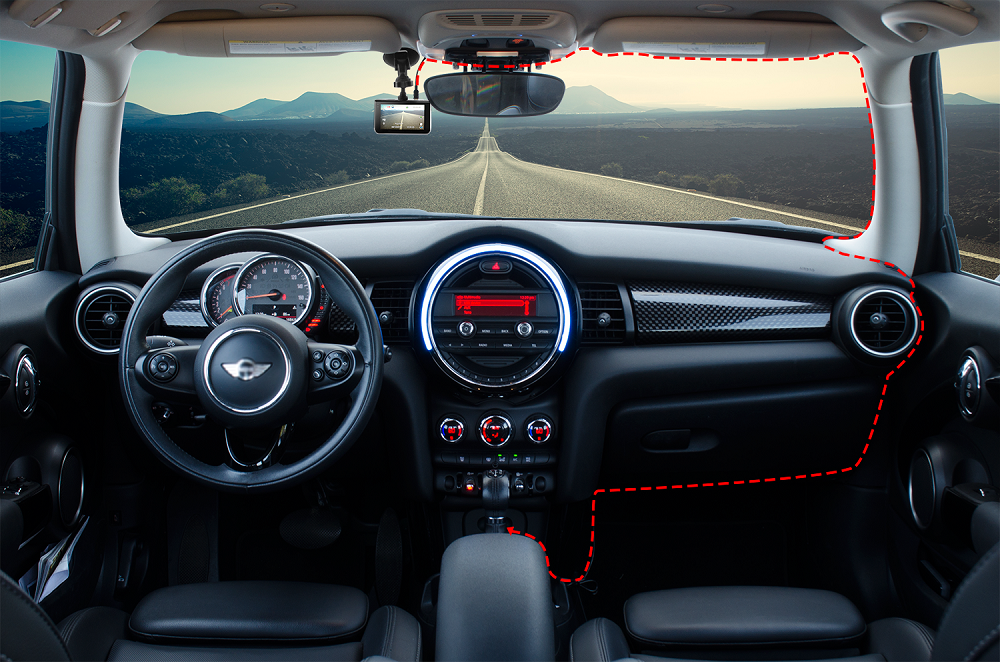 Wide 160 Degree Viewing Angle
A carefully crafted 160 Degree fixed lens generates striking visuals. With such a wide field of view you will have no problem keeping everything in view on the road in front of your vehicle.
Pixel Motion Detection
Enable Motion detection to control what you are monitoring. This is an effective way to ensure that you only record what you need when it's important and only while the vehicle is in motion. While on the road, let the Amcrest Dash Camera hold its focus so you don't have to lose yours.
Auto Power On, Loop Cycle Record, Impact detection and much more!
The Amcrest Dash Camera frees you from having to turn on the camera every time you enter the vehicle if your cigarette lighters activates when you turn your vehicle on. The camera will also power down once you turn your vehicle off. Let the camera do its job while it continuously records in Loop Cycle. You do not have to worry about the Micro SD Card getting full as it deletes the oldest recording and records in its place. Impact Enabled Recording Can Automate Video Capture When Any Sudden Braking, Impact, Rapid Acceleration, Sharp Cornering Occurs or auto collision records.
Camera Resolution
2-Megapixel / 1080p
Night Vision
32 feet / 10 meters
Text Above Add to cart Button
0
Amazon Checkout Url
https://www.amazon.com/gp/product/B01LZJDGJ6/ref=as_li_qf_asin_il_tl?ie=UTF8&tag=amcrestind-20&creative=9325&linkCode=as2&creativeASIN=B01LZJDGJ6&linkId=0e7eb153765b8fb78ab5077e94a7f073
What's In the Box:
Amcrest Car DVR ACD-830B Camera
Windshield Mounting Suction Cup
Universal Car Adapter
Mini USB Cable 3 feet
16GB SDHC Memory Card
User Manual
Software CD with included Amcrest Car DVR Player

Featured Products

Amcrest Support