Amcrest 8-Port Switch with 4-Ports POE+ 802.3af/at 60W, Metal Housing, (AGPS8E4P-AT-60)
AMCREST MODEL: AGPS8E4P-AT-60
GIGABIT/POE SWITCH FEATURES:

4 x 10/100/1,000Mbps PoE Ports.
PoE Power Consumption: Port 1 < 60W, Port 2-4 < 30W, Total < 60W.
PoE Protocol: IEEE802.3af (PoE), IEEE802.3at (PoE+), Hi-PoE
Switching Capacity 20Gbps
Packet Forwarding Rate: 11.9Mbps.
Packet Buffer Memory: 1.5Mb
MAC Table Size: 8K.
Flow Control: Enabled by default.
Application Humidity: 10%-90%
Power: DC 48-57V.
Lightning Protection, Command Mode: 2KV, Differential Mode: 0.5KV.
Working Temperature: -14°F ~ 131°F.
Weight: 1.08 lbs.
Dimensions: 7.5 x 3.9 x 1.18 inches.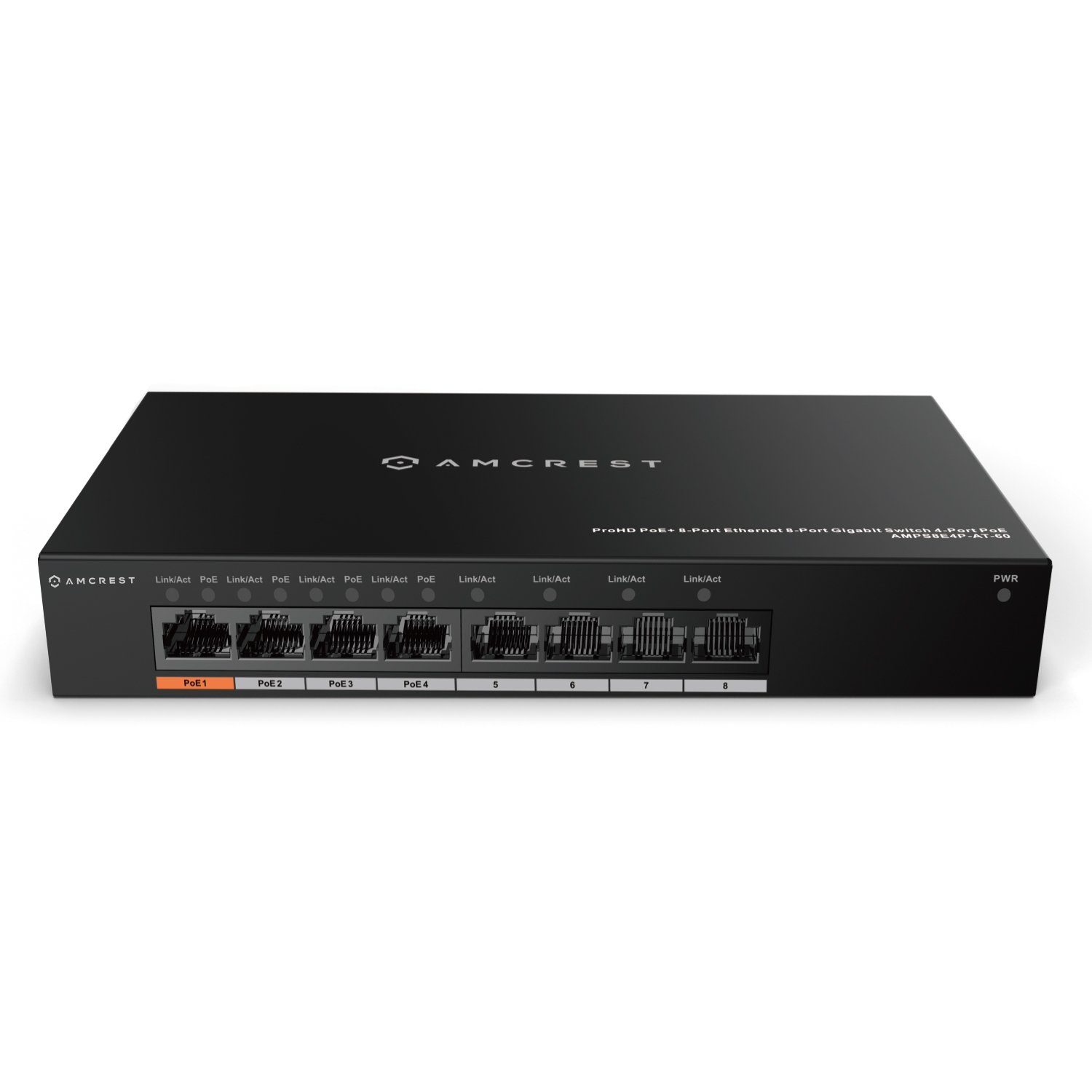 8-Port Switch with 4-Ports PoE+
The Amcrest AGPS8E4P-AT-60 is an 8-Port Gigabit Switch with one 10/100 Base-T Ethernet Port and 4x 10/100/1000 Mbps PoE+ Ports. Supports Hi-PoE (60W) on Port 1, Supports Ports 2-4 30w power to each POE port (POE+ 802.3at), Total 60W.
Layer 2 Management PoE Switch
Layer 2 Management PoE Switch, supports MD/MDIX self adaptation. PoE Protocol: IEEE 802.3af & IEEE 802.3at (PoE+), Hi-PoE.
Shipping, Warranty, & Support
When you purchase directly from Amcrest you are not only purchasing a product, but also the value-added service of same-day shipping from our US based warehouse. We have a 14-day money back return policy and a warranty replacement process all based out of the US. If you need help, click our Support Tab to gain access to step-by-step guides, video tutorials, and our community support forums. And if you still need additional assistance, feel free to call or email our technical support team. We're happy when you're happy!
Infrared Night Vision
32 feet / 10 meters
Technology Standard
HD IP PoE
Text Above Add to cart Button
0
Amazon Checkout Url
http://www.amazon.com/dp/B08FCT1CXB?ref=myi_title_dp
1 x 8-Port Gigabit Switch with 4-Port PoE+ (AGPS8E4P-AT-60)
Regular Price
$89.99
Special Price
$84.99
Free Shipping within the continental US except outlying
US Territories
Featured Products

Amcrest Support