Amcrest 256 x 192 IR Resolution Infrared Thermal Imager, Handheld 49152 Pixels Thermal Imaging Camera, Infrared Thermometer with 2.4" Color Display Screen (TCH-2201-B)
AMCREST MODEL: TCH-2201-B
THERMAL CAMERA FEATURES:
Resolution: 256 x 192, 49152 pixels.
Pixel Pitch: 12 μm
Spectral Range: 8μm - 14μm
Thermal Sensitivity (NETD) ≤50 [email protected]/1.0
Focal Length 3.5 mm
Field of View 37.8° × 50.6°
F1.0 Aperture.
Color Palettes 4 (White Hot/Black Hot/Rainbow/Ironbow)
2.4" LCD Display.
Temperature Measurement Range 86°F-113°F (30°C ~ 45°C).
Temperature Accuracy ±32.9°F (±0.5°C) Operating Temperature 50°F ~ 95°F
Temperature Measuring Distance 0.5m-1.5m
Micro SD Card Storage (Max. 256G) (Not Included, Sold Separately).
Micro USB Port.
Built in rechargeable Lithium-Ion battery.
Battery Life > 8 hours.
Charging time ≤2.5h
Protection Grade IP54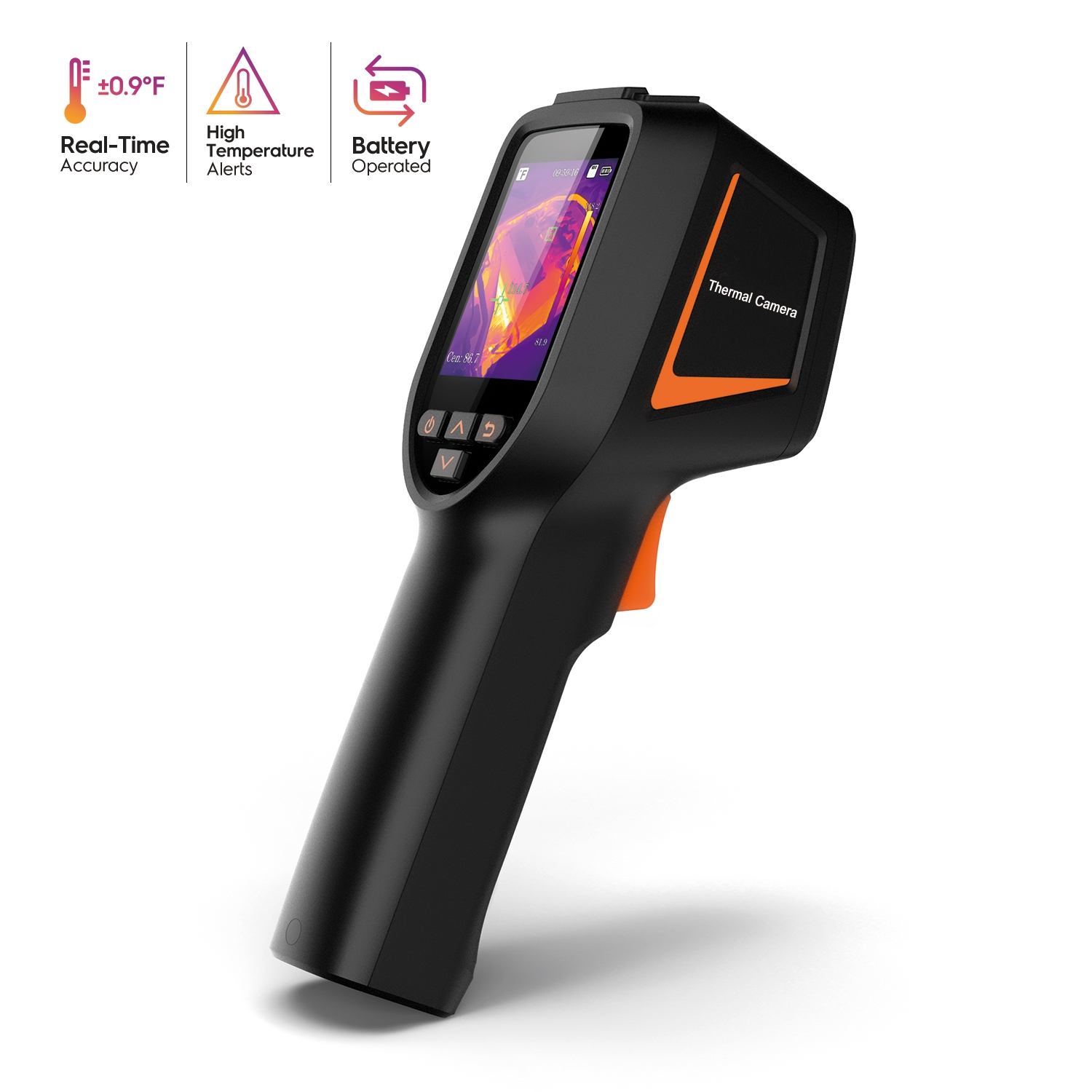 HIGH RESOLUTION DISPLAY
Our 2.4" full color display screen shows thermal detection and visible light imagery in 256 x 192 resolution, allowing the user to see the full range of infrared imagery.
MICROSD STORAGE
The Amcrest Handheld Thermal Imagers supports recording to a MicroSD Card (up to 256GB) (MicroSD Card Not Included, Sold Separately).
IDEAL FOR PROFESSIONALS
This Infrared Thermal camera is ideal for public places, and can be used for efficient and safe preliminary screening at any job that requires accurate temperature readings. Operating Temperature: 50°F ~ 95°F (10°C ~35°C).
LIGHTWEIGHT AND COMFORTABLE GRIP
This camera is only 1.10 pounds, perfect for easy storage and taking anywhere. Shaped in a"gun" style with an ergonomic handle, for comfort and ease at any angle. The Amcrest Thermal Camera supports an audible alarm.
1 x Amcrest Handheld Thermal Imager (TCH-2201-B)
1 x Adapter (5 Plugs are provided for Chinese, Amcerican, European, Australian and British Standards).
1 x USB Cable
1 x Wrist Rope
Quick Start Guide