Amcrest 4MP Doorbell Camera 2.4GHz/5GHz WiFi Doorbell Camera AD410
AMCREST MODEL: AD410
DOORBELL CAMERA FEATURES:
4-Megapixel CMOS Image Sensor, HD 2560x1920p, 2K @15fps
Focal Length: 2.27mm
Max Aperture: F2.1
164° viewing angle
Nightvision: Up to 16 feet
Motion Detection up to 16 feet
IP65 Weatherproof
MicroSD Storage up to 128GB, Class 10 or higher. (MicroSD Card Not Included)
H.264 Compression technology (H.265 Supported)
G.711a/u Audio Compression
Built in microphone & speaker for two-way audio
Dualband Wi-Fi Supports 2.4GHz & 5GHz WiFi Networks
Receive motion detection alerts via push notifications and instantly review recorded footage directly from your smartphone using the Amcrest Smart Home app
Working Temperature: 14°F ~ 122°F, 20~95%RH
This product may contain components which are not NDAA compliant
Dimensions: 5.11 x 1.77 x 0.91 inches
Weight: 0.24 lbs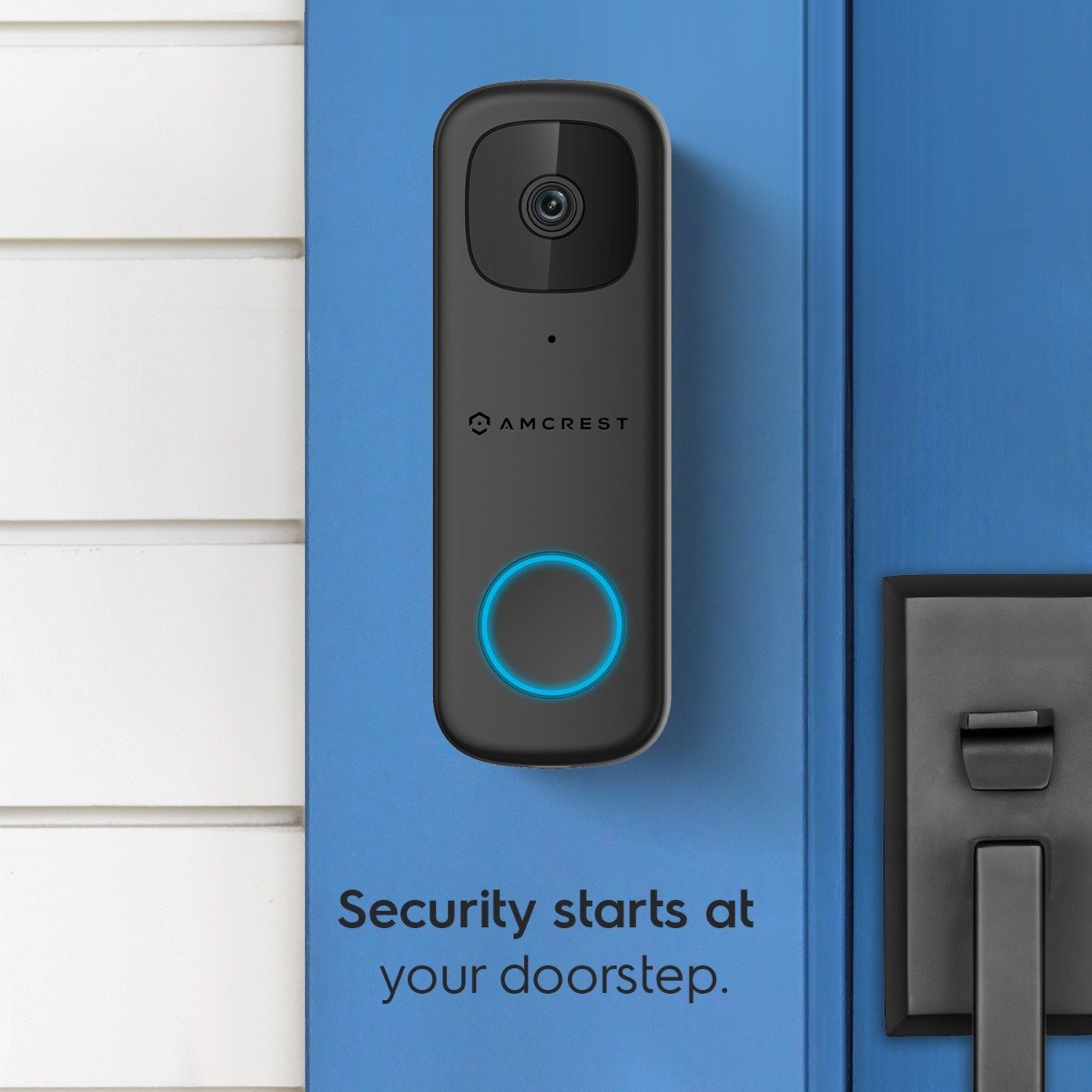 Simple WiFi Doorbell Setup
The Amcrest WiFi Doorbell provides a simple setup process that can get you up and running on the Amcrest Smart Home app in no time. Simply power the doorbell, download the app, scan the QR code, and within just a few taps you're ready to go. Day to day operations are a breeze thanks to the simple interface which allows you to take advantage of the camera's powerful features.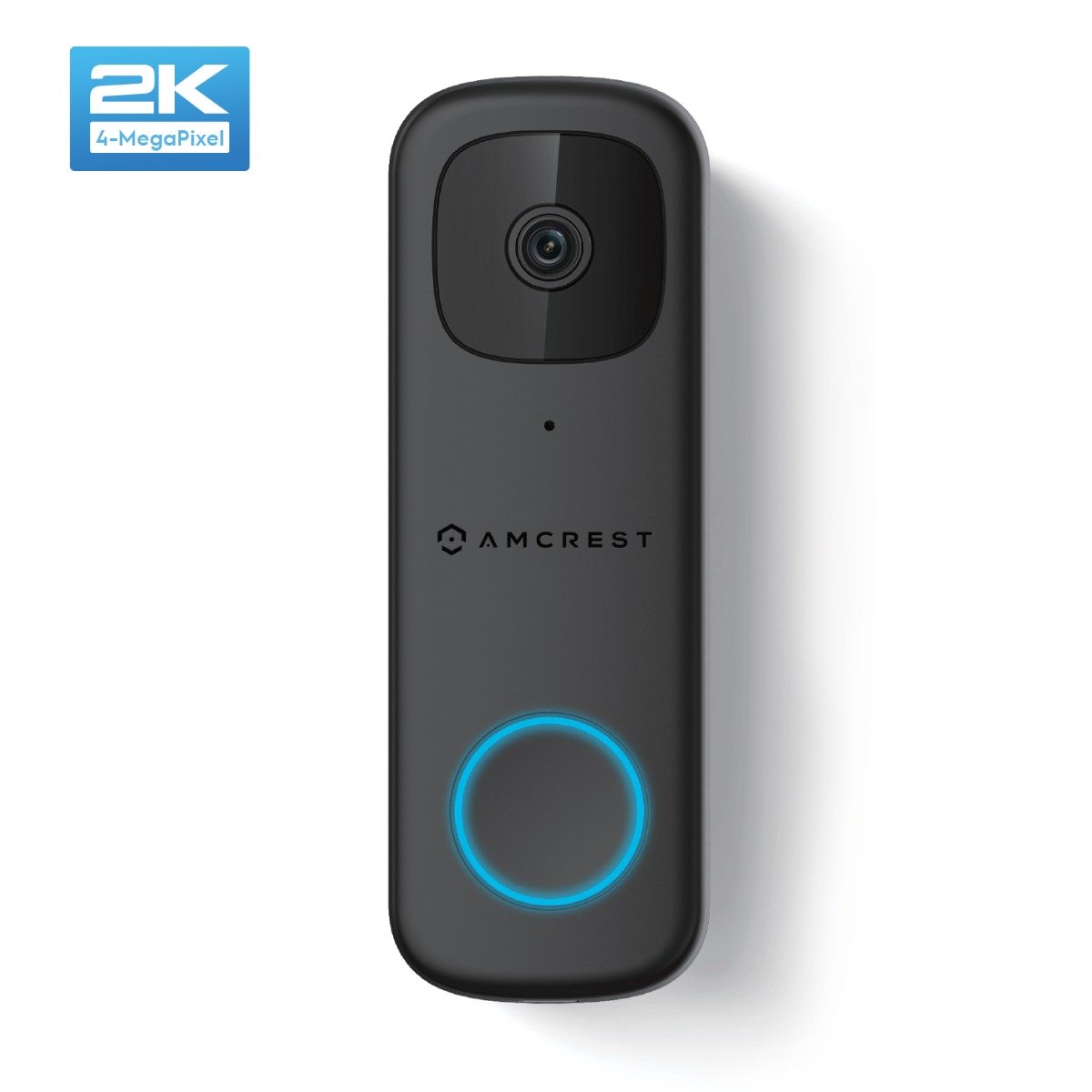 Full HD 4-Megapixel at 15FPS
Featuring the latest progressive scanning image sensor and chipset, the Amcrest WiFi Doorbell Camera soaks in the entire scene, dynamically painting all the vivid colors and rich imagery, pixel by pixel, onto your computer screen or smartphone in full 2560x1920p resolution at 15 frames per second (FPS). No need to strain your eyes, lean in close, or play the guessing game when you have this level of detail.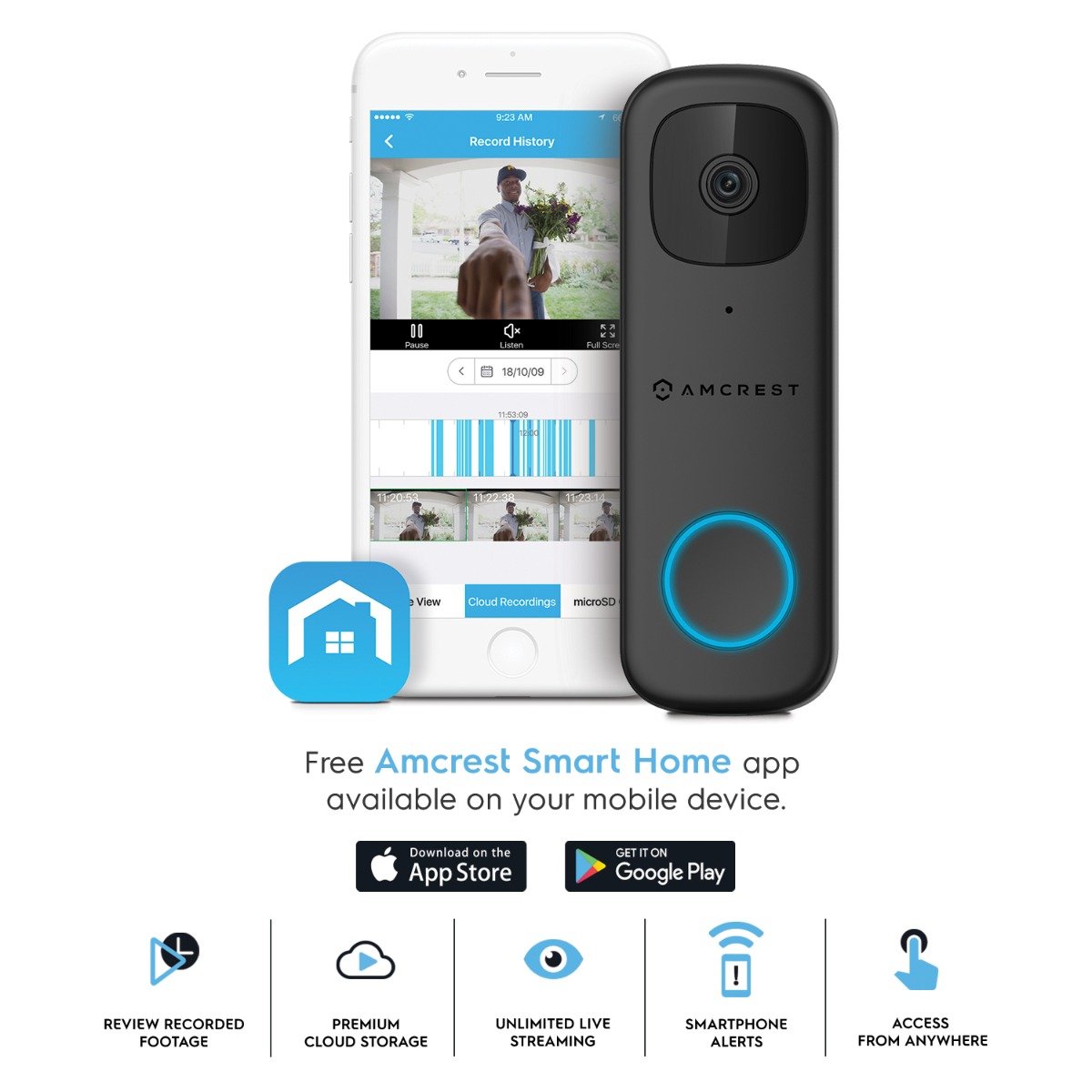 Amcrest Smart Home Cloud Video Storage
High definition recordings and snapshots are only as good as how quickly and easily they can be accessed. Amcrest Smart Home Cloud was created to ensure that you don't miss anything, no matter where you are. Regardless of how far you are from home, through the Amcrest Smart Home Cloud smartphone app to instantly pinpoint your footage through an intelligent timeline on an intuitive interface and play it back in seamless and brilliant 1080p quality. The Amcrest Smart Home Cloud app also can be configured to send you on-the-go alerts. Live viewing is included free. Additional 7-day, 15-day, and 30-day storage plans are available starting at $6 per month.
MicroSD Storage
In addition to Amcrest Smart Home Cloud, the Amcrest SmartHome Doorbell Camera can also record to a MicroSD Card (Supports up to 128GB, Class 10 or Higher). You'll have full control over your recordings and can manage them however you'd like.
Smart Motion Alerts
The Amcrest Smart Home app frees you from having to check in just to find out what's been happening lately. Instead, get immediate push notifications and alarm details sent to your smartphone while you're on the go. Launch straight into the app, choose an event from the Event List, and jump right to the relevant recording or snapshot. Life doesn't wait around, and neither should you.
Two-Way Audio
Built in microphone and speaker allows for two-way audio and makes it easier to talk to visitors without having to get up and answer the door.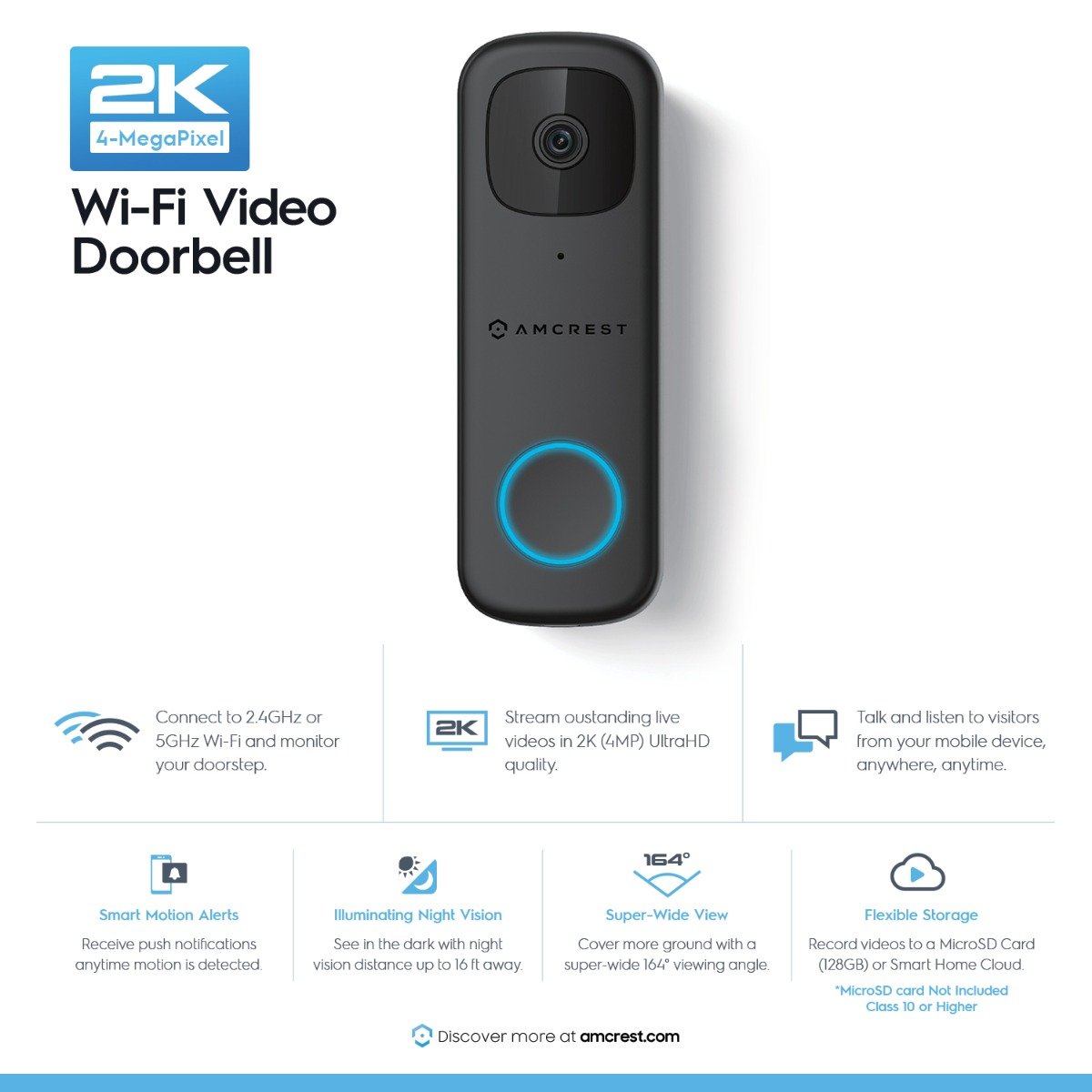 Infrared Night Vision
Cutting-edge night vision technology allows you to get a crystal clear picture even when it's dark. The camera has built in night vision allows you to see in the dark, up to 16 feet away.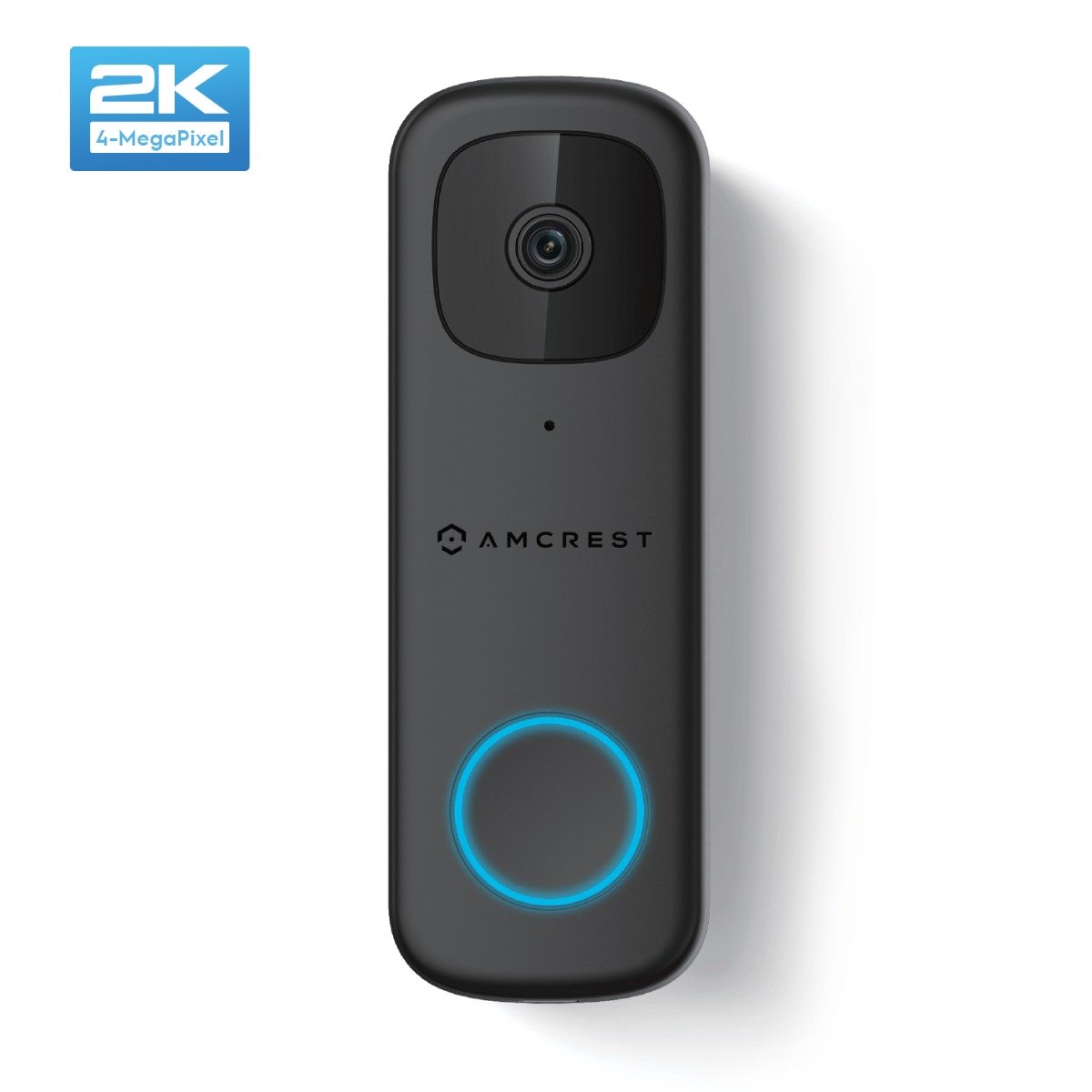 Wide 164° Viewing Angle
A carefully crafted 2.27mm fixed lens that generates striking visuals owing to the 164° viewing angle. With such a wide field of view you will have no problem keeping what you care about in your sights. The Amcrest Video Doorbell Camera is powered by using existing 16V-24V doorbell wiring and is compatible with existing traditional mechanical and electronic digital chimes to provide surveillance of all front door activity in high definition 4-Megapixel (2560x1920p) resolution
Secure SSL & AES Encryption
The Amcrest SmartHome Doorbell Ccamera features secure SSL connections via HTTPS as well as uses AES encryption for wireless devices to comply with modern WiFi standards for encrypted connections. This way you can always be assured that, as you play your footage, you're also playing it safe. Our WiFi Doorbell Camera works with dualband Wi-Fi Netoworks (2.4GHz & 5Ghz Networks). Compatible with any 16V, 30VA Doorbell Transformer.
US Support & Warranty
Any user of Amcrest products can take full advantage of the expansive support content available. Between our YouTube channel, knowledge base, forums, and US email/phone support team, anything and everything can and will be answered quickly and simply. In addition, each purchase with Amcrest will include a 30-day money back guarantee as well as a 1-year replacement warranty.
Camera Resolution
4-Megapixel
Infrared Night Vision
16 feet / 4.87 meters
Technology Standard
HD IP Wireless
Text Above Add to cart Button
0
Amazon Checkout Url
https://www.amazon.com/Amcrest-Doorbell-Detection-Weatherproof-Wide-Angle/dp/B091KMT9GB/?maas=maas_adg_737C29808874619BA3B02A9651BE9D0A_afap_abs&ref_=aa_maas&ref=sr_1_3&dchild=1&keywords=4MP+Video+Doorbell+Camera+Pro
1 x Amcrest 4-Megapixel WiFi Video Doorbell Camera (AD410)
1 x Corner Bracket
1 x Wedge Bracket
Installartion Tools
Quick Start Guide