Amcrest 4K Security Camera System w/ 4K 16CH (8-Port PoE) NVR, (16) x 4K (8-Megapixel) IP67 Weatherproof Metal Bullet POE IP Cameras (3840x2160), 2.8mm Lens, Pre-Installed 4TB Hard Drive, NV4116E-IP8M-2496EW16-4TB (White)
AMCREST MODEL : NV4116E-HS-IP8M-2496EW16-4TB
NVR FEATURES :

Advanced H.265 compression technology lets you save on storage space which allows for longer recording times. H.265 technology compresses your video without sacrificing any of the UltraHD video quality.
Pre-installed 4TB Seagate SkyHawk Surveillance Hard Drive. Hard Drive Custom-built for surveillance applications with Image Perfect firmware for crisp, clear, 24×7 video workloads
Recording Resolution - 4K, 8MP, 6MP, 5MP, 4MP, 3MP, 1080P(2MP), 720P(1.0MP)
Record in Widescreen, Quick Access QR Code Remote Viewing on iPhone, iPad, and Android (w/ included Amcrest View app)
Remotely Access Using Standard Windows and Mac Browsers
Easy to Install: Connect to and Manage All Cameras on Your Network via Ethernet Cables
Feature-Rich OSD: Camera Name, Time, Motion Detection, Video Loss, Lock, and Record Status Icons
Multiple Trigger/Alarm Events: Recording, PTZ, Tour, Video Push, Email, FTP, and Buzzer
Custom Record Modes (e.g. Manual, Scheduled, Motion Detection) and Record Intervals (1-120min)
USB Backup Feature for Peace of Mind
CAMERA FEATURES :

4K (8MP) @15fps High Resolution, 3840x2160P
Remarkable FOV 112°, IR LED Night Vision Up to 98 feet
IP67 rated Indoor/Outdoor Weatherproof; Metal Housing
Dimension (L*W*H) : 6.9 x 2.7 x 2.7 inches.
Weight: 1.1 lbs.

SKU:
NV4116E-IP8M-2496EW16-4TB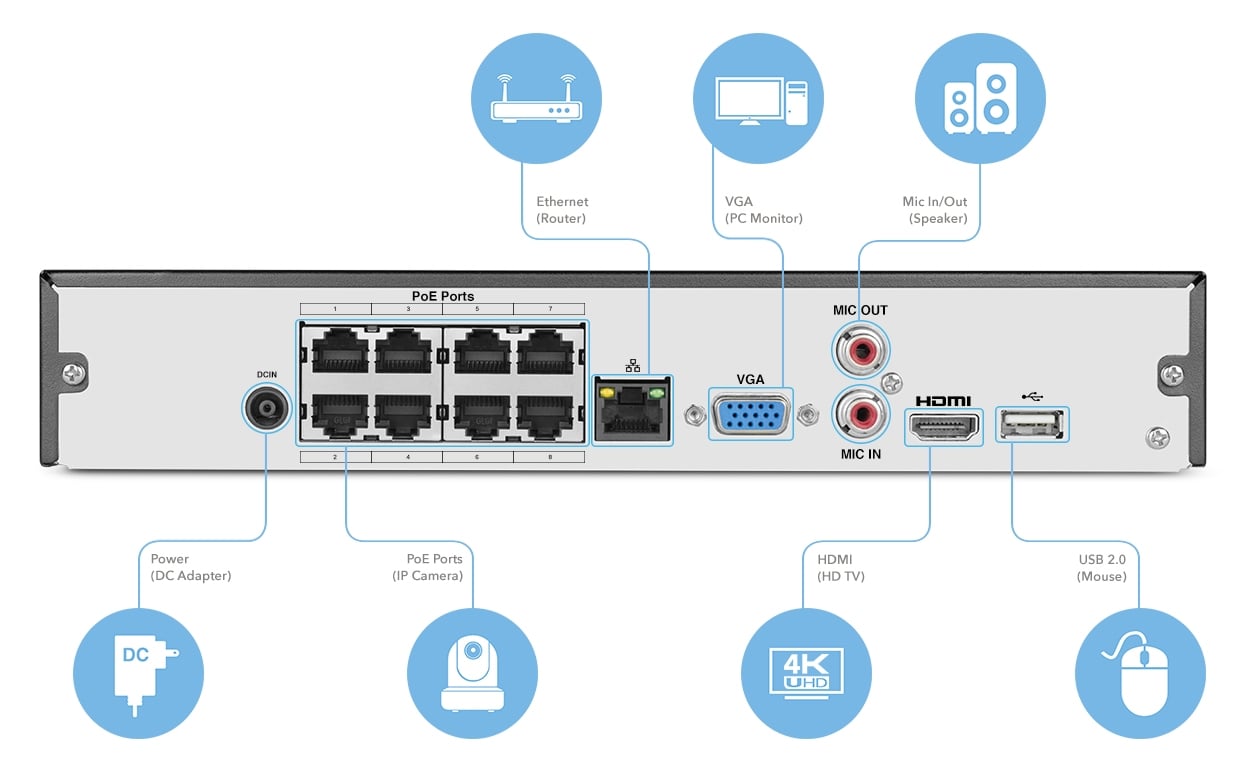 The Amcrest 16-Channel NVR
This Amcrest 16-Channel NVR comes with a Pre-Installed 4TB Hard Drive (Supports up to 6 Terabytes), simultaneously managing and recording up to sixteen 4K (8MP) cameras @ 15fps real-time to deliver video quality and performance that is unsurpassed in the consumer security technologies market.



Superior HD 4K (8MP) at 15 FPS
Featuring the latest Sony IMX274 progressive scanning image sensor and the Ambarella S3L33M Chipset, the Amcrest UltraHD camera soaks in the entire scene, dynamically painting all the vivid colors and rich imagery, pixel by pixel, onto your computer screen or smartphone in full 3840x2160 resolution at 15 frames per second (FPS). No need to strain your eyes, lean in close, or play the guessing game when you have this level of detail.



Plug and Play Setup
Easy to configure, access, and control. Scan QR Code on the NVR from the "Amcrest View" app (available on iOS and Android) to instantly access live viewing and playback. Connects to and manages all the cameras on your network for ultimate ease and convenience in a home security system.



Fast and Reliable
Watch things happen as they happen: real-time, highly reliable HD video without loss or delay. Conveniently packaged with all needed components such as network cables and quick start guide with user manual.
Guaranteed Peace of Mind
Includes USB backup feature for peace of mind. All systems CE & FCC certified with UL compliant power supplies. Guaranteed for a Full Year from purchase with US Warranty and Lifetime Support offered exclusively by Amcrest.
Camera Resolution
4K / 8-Megapixel
Infrared Night Vision
98 feet / 29.87 meters
Technology Standard
HD IP PoE
Resolution
4K (8MP 3840x2160)
Model
NV4116E-IP8M-2496EW16-4TB
Text Above Add to cart Button
0
1 x 4K 16-Channel (8-Port PoE) NVR with Pre-Installed 4TB Hard Drive (NV4116E-HS)
16 x 4K (8MP) Bullet PoE IP Cameras White (IP8M-2496EW-28MM)
4 x 4PACK 60 Feet Cat5 Ethernet Cables (4PACK-CAT5ECABLE60)
1 x Network Cable for Connecting NVR to Internet Router
1 x USB Mouse
1 Year Warranty When Purchased from Amcrest
Regular Price
$1,979.99
Special Price
$1,799.99
Free Shipping within the continental US except outlying
US Territories

Featured Products

Amcrest Support