Amcrest SmartHome Alarm Hub, Alarm Kit System, Compatible with The Amcrest SmartHome PIR Motion System, Entryway Sensor, & Alarm Hub (AL-HUB1)
AMCREST MODEL: AL-HUB1

HUB FEATURES:
Enviroment: Indoor
Power DC5V, 1A
Working Enviroment: 14°F ~ 131°F (-10°C ~ +55°C)
Hub Dimensions: 2.95 x 0.94 in
Hub Weight: 0.10lbs
Installation Method: Wall Mounted / Desktop
CPU: A7 @900MHz
Voice Prompts Suported
Wi-Fi Only Network
1 Indicator Light
Communication Distance: 328 feet (Open Field)
2-Way Communication Mechanism
Wireless Security System
A smart way to protect your house with the Amcrest SmartHome Security System. The Amcrest SmartHome Alarm Hub only works with the Amcrest SmartHome PIR Motion Sensor& Door Window Sensor.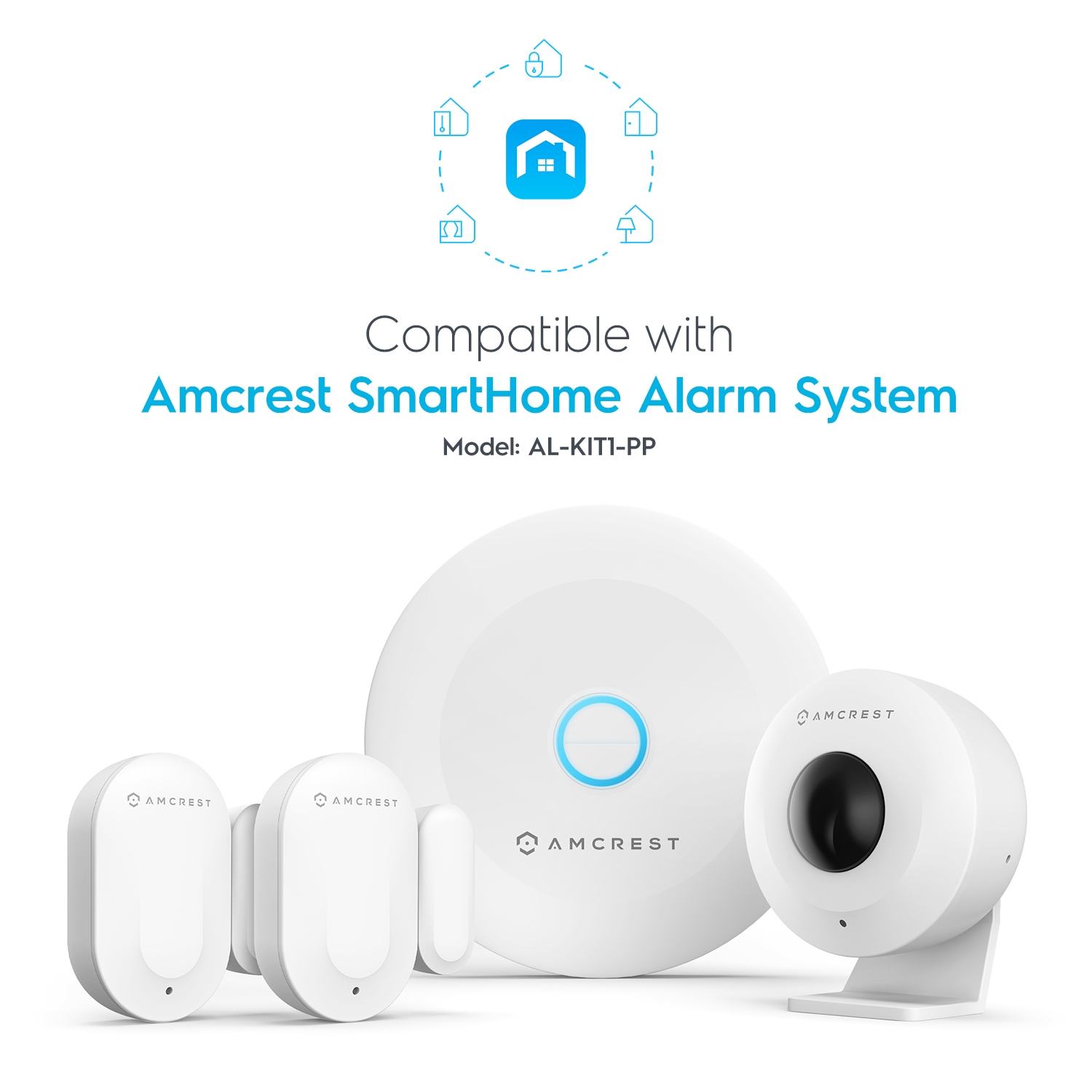 Smart Alarm System
Amcrest SmartHome Smart Hub Security System is an affordable solution for your home/business security. You have full control over the window/door alarms for home security through the smartphone SmartHome App and get instant notifications of alarm alerts in your house or business.
Customizable
- You can add extra door and window sensors, PIR motion detectors to different rooms in your home/business security systems; It supports the expansion of up to 32 door/window sensors and PIR Motions Sensors, which can be added to the WiFi alarm station. PIR Motion Sensors & Window Sensors Not Included and Sold Separately.
DIY Installation
Easily set up the Amcrest SmartHome Smart Hub in minutes without tools. The wireless connection devices don't damage the wall. The Smart Hub should always connect via the USB cable to the AC adapter. PIR Motion Sensor & Window Sensor Required for alerts, Not Included, Sold Separately.
US Support & Warranty
Any user of Amcrest products can take full advantage of the expansive support content available. Between our YouTube channel, knowledge base, forums, and US email/phone support team, anything and everything can and will be answered quickly and simply. In addition, each purchase with Amcrest will include a 30-day money back guarantee as well as a 1-year replacement warranty.
Technology Standard
HD IP Wireless
Text Above Add to cart Button
0
Amazon Checkout Url
http://www.amazon.com/dp/B08X6P74ZY?ref=myi_title_dp
1 x Amcrest SmartHome Alarm Hub (AL-HUB1)
Quick Start Guide.